Pinecrest is one of the most popular neighborhoods included in our La Crescenta Neighborhood Guide. Local developer and self taught designer Webster Wiley developed Pinecrest in the mid-sixties. Pinecrest is a planned track of homes with two basic designs repeated in different ways. It is an unusually consistent and thoughtful neighborhood in La Crescenta.
LOCATION
Pinecrest is located at the top of La Crescenta Ave, right in the folds of the Angeles Crest Mountains.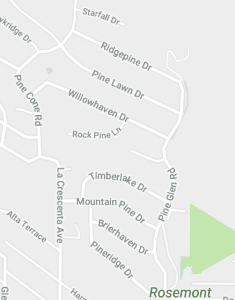 Two Stike Park is just below the Pinecrest neighborhood. Locals also use Rosemont or Ramsdell to get into the neighborhood.
PINECREST HISTORY
Here's an excerpt from an article on Web Wiley from local historian Mike Lawler:
Webster grew up in Glendale in the '20s and '30s, attending Glendale High and Glendale College. After serving in WWII, he was somewhat directionless, selling Yellow Pages advertising for a living.

In the course of this work he had a chance meeting with the famed Los Angeles architect Paul Williams, which forever changed his life. The talented black architect lit a flame in young Wiley that ignited a lifelong passion for building and design.

Wiley, with no formal training in building, built a small house on Honolulu Avenue using a do-it-yourself manual. Completely self-taught, he began successfully designing and building homes in the Whiting Woods tract in the '50s. From his offices in Sparr Heights, he developed several successful major tracts in CV, mostly in the upper reaches of the valley against the San Gabriel Mountains.

His kids all attended school locally, he became a skillful private pilot, and he was active in building trade organizations. He eventually retired to Apple Valley.
Read the entire article in the Crescenta Valley Weekly HERE.
WHAT PEOPLE LOVE ABOUT PINECREST
Cool people love the Pinecrest because it is one of the few fully developed tracts in La Crescenta and it is one of the coolest places for people who love Mid Century Homes.
Web Wiley laid out wide avenues across to the slopes of the mountain which gives a pleasant, walk-able flatness to this mountainside community. He also included sidewalks and street lights which is a rare convenience in La Crescenta. There is a pleasant aesthetic that comes from a few floorplans expressed in different ways.
There are two basic models, the split level reminiscent of the Brady Bunch home and the single level mid-century atrium home reminiscent of the Eichler homes.
FAVORITE LOCAL ATTRACTIONS
Deukmejian Wilderness Park – people love to hike in the Deuk- there are remnants of long-ago cowboy culture, natural little brooks, interesting plants and fragrant chapparel shrubs. The Le Mesnager Barn is a historic feature and the Historic Society holds special events like Wine Tasting from time to time.
Tickle Tree Cafe – This unexpectedly cool and hip eatery features the latest in coffee technology, excellent food, and a relaxed urban vibe.
La Crescenta Regional Library – We are huge book nerds at DIGGS and this library is one of our favorites. We love the modern Crafstman design on the outside and the technology-infused check out system. Our librarians have more time to help patrons find the books and information they need.
Left Handed Cook – This is a little more than just down the street, but you'd hate me if I didn't tell you about this place.  It's like the best hipster food truck with predictable hours, location and a clean place to sit. The food is sort of Korean, but fresh, modern and ridiculously delicious.
SCHOOLS
Pinecrest Neighborhood is associated with the following public schools:
Monte Vista Elementary (Korean Immersion Available)
Rosemont Middle School
Crescenta Valley High School
Clark Magnet School
PINECREST HOME FACTS

As stated above, people love the uniform quality of this planned development.
The Brady Bunch style split level homes are typically 3 bedrooms with a small den downstairs that is often used as a fourth bedroom. This model is about 2400 SF. The single-level atrium model is typically 1800 SF with 3 bedrooms. The lots were typically 9,000 – 11,000 SF, but not all of it is flat and the split level models typically had a split level yard, as well.
Check out additional La Crescenta Neighborhoods
Crescenta Highlands
Two Strike Park
Whiting Woods
PINECREST HOMES FOR SALE
[idx_slideshow link="1g7qjcnq1tpy" horizontal="4″ vertical="1″ auto_rotate="15000″ source="location" display="all" sort="recently_changed" additional_fields="beds,baths,sqft" destination="local" send_to="detail"]