The Pelanconi, a Glendale Ca neighborhoood is little known gem just below Glenoaks Blvd. We are about to launch 808 Patterson – a crisp Spanish style home smack in the heart of the Pelanconi – so we thought we'd give a little background to the neighborhood!
LOCATION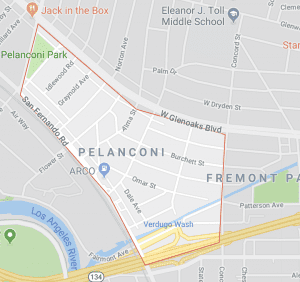 The map above shows the official boundaries of the Pelanconi, although there are a few residences near Fremont Park that are often lumped into the definition.
Pelanconi History
Katherine Yamada covered the history of the Pelanconi in her Verdugo Views article in the Glendale News-Press. The neighborhood had once been vineyards for a winery on Olvera Street!
WHAT PEOPLE LOVE
People love the Pelanconi for its wide avenues lined with adorable character homes. The neighborhood is relatively small and contained. Neighbors tend to know each other and evening strolls are as much a social hour as it is exercise.
The neighborhood enjoys 2 different parks, Pelanconi Park and Fremont Park, with many interesting boutique restaurants, coffee, and grocery stores nearby.
FAVORITE LOCAL BUSINESSES
Golden Road Brewery is just across the tracks (literally) from the Pelanconi and offers a world-class brewery and dining experience. They want to say they are "Atwater" but they are 10 feet past the Glendale border.
Jon's International Marketplace focuses on food products, meats and produce geared for ethnic cuisine. It is super popular because their produce department has a ridiculous variety and incredible prices.
Cafe Bravo is a Mediterranean "fast" food restaurant. I am obsessed with their chicken kabob sandwich and their eggplant caviar (ikra).
Green Corner Cafe – this family-owned and operated restaurant serves up gourmet, organic, Non-GMO, gluten-free and vegan food! All I know is it is delicious.
PELANCONI HOMES FOR SALE
The Pelanconi contains a wide variety of character homes. Spanish style is the most prevalent, but there are also California Ranch, English Tudor and Bungalow style homes. Most have a detached garage placed to the back of the lot.
In the last twelve months, 18 single-family homes have sold. There are 2 and 3 bedroom homes and the average square footage is 1477. The average lot size is 6187.
Sorry we are experiencing system issues. Please try again.
Curious about other Glendale Ca neighborhoods? Click to see more!