Real Estate Investment Strategy Guide
Real Estate Investment Strategy Guide
"Buy Real Estate!", they say – but no one tells you about real estate investment strategy and how it works.
Here are ten steps to every Real Estate Investment strategy that every investor should consider. They are not complicated, but each one requires careful research, thought and consideration in order for your investment to be predictably successful.
1. Property Type
There are many kinds of rental properties that you can start investing in. You can choose to invest in single-family homes, multi-family units, shopping centers, storage units, office buildings, and whatnot.
All of these categories have varying prices and opportunities, it's your job to choose one, depending upon the size of the investment you want to make.
Residential Properties
Single-Family Units
Multi-Family Units (1 – 4 units)
Commercial Properties
Apartments (5+ units)
Shopping Centers
Office Buildings
Storage Units
Besides these self-managed options, there is also the option to invest through different investment funds. These funds are a wonderful way for small-time investors to get started in real estate investing and make their way from there.
2. Local or Long Distance Properties
The second step of your real estate investment strategy is to decide to invest locally or in a long distance property.
A local investment would be in a property located in your own market, your own neighborhood, or your own city.
But a long distance investment would mean investing in another market, another city where you see a potential of market value increases over time.
Benefits Of Investing In A Local Property
Easily manageable
Easily rented out
Self monitorable
Benefits Of Investing In A Long Distance (a growing market)
Higher Rents
More cash flow
Greater returns
3. Appreciating Properties or Cash Flow Only
Different markets behave differently over time and this is a critical step in your real estate investment strategy.
Understanding if a property is apreciating or just a cash cow requires an analysis of the current market value of a property against the predicted market value over a certain amount of time.
Example:
Property 1 in Market A:  has a market value of $1,000,000 dollars and its expected value is predicted to increase to $150, 000 in 1 year. However, it is "cash flow negative" meaning the rents are not high enough to cover expenses.
Property 2 in Market B: has the same market value but its expected value is predicted to stay the same in a year. This investment is "cash flow positive" – the rents more than cover all expenses.
Property 1 is generally the wiser investment. If property values in Market A are expected to rise, rents are also predicted to rise. If you can afford the temporary negative cash flow, in the beginning, your overall investment will do far better over time than Property 2.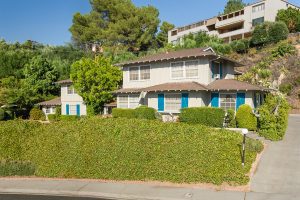 Check out 3512 Stancrest Dr. in the Montrose area of Glendale Ca. This is an excellent "Property 1"
Are you starting to get anxious, mayber a bit fearful of your real estate investment strategy? Check out our No Excuses Guide To Investing in Income Property.
4. Self Management Or Hiring A Property Manager
Investors often plan to manage their real estate invesments by themselves. By managing your properties yourself, you can save up on money and keep a close watch on everything.
The mistake I often see is the investor who wants to get a great tenant and then just watch the money roll in every month. You need to see your real estate investment strategy as an active JOB, not a passive piggy bank.
If you are not up for that JOB, you can hire a property manager just keep in mind that this person you hire is not only going to represent you but your money as well. So until and unless you trust them fully, don't hire them.
Benefits Of Self Management
No extra costs
Closely monitored properties
Full control
Benefits Of Hiring A Property Manager
Reduce or eliminate the hassle of tenant calls
Someone else deals with the 2AM emergencies.
No extra work
PRO TIP: We know great property managers that we are happy to refer!
5 Keeping Demographics In Mind
Quite frankly, this is one of the most important aspects tof your real estate invesment strategy. Make sure that all your demographics match up so that you can be successful as a rental property investor.
Is your ideal tenant a family likely to stay for many years? Consider investments near good schools. Do you want professionals with a solid professional profile? Consider investments near large professional employment hubs.
All your demographics should match up to the rent you're proposing for your property. We are not proposing that you discriminate against certain types of potential tenants. We are talking about an real estate investment strategy designed to appeal to your ideal tenant profile.
6. Finance or Cash?
A single question you need to ask yourself when buying a rental property is whether you want to pay cash or finance?
If it is cash, your cash flow numbers are going to look AMAZING, but that can be misleading. Ask yourself, how will this money perform in some other investment? How does this potential real estate investment compare?
If it is finance, make sure you nail down your details BEFORE you start shopping.
Identify your lender and get them into your speed dial.
Know what is factored into the loan approval calculation.

Residential loans on 1 – 4 units are approved differently than commercial loans.

Understand the mortgage payments based on down payments. This will help you to understand the cash flow of any investment before you make an offer.
7. The Location (location, location, location)
The old adage that real estate is about location, location, location is even more true for your real estate investment strategy.
Located Around Schools: The most common tenants are usually young families with kids. So a property located near good schools would attract more families and it will be easier to rent them out.
Good Neighborhood: There are people that look for houses in great neighborhoods because that overall environment is important to them. These people would even sacrifice living in a not so great house to live in a good neighborhood.
Smaller Houses: One thing you need to understand is that smaller houses are easier to rent out in comparison to larger ones. So think smartly, when buying a rental property.
Houses With Not Too Many Upgrades: I get it, accessories are great but they don't get you any extra rent, do they? So when making an investment, look for a clean and nice one, after all, that's what people need, not what they want.
8. Budget For Maintenance
Forgetting about maintenance costs is a critical and common mistake made in most real estate investment strategies
It's easy to get distracted by calculating cash flow. It's easy to lose track and not keeping a maintenance budget in mind.
There are three types of maintenance budgets to keep in mind.
Normal or Regular Maintenance
This is ongoing stuff like utilities, gardening, or pool maintenance.
Preventative Maintenance
These items happen yearly or every few years and help prevent catastrophic (and expensive!) failures. Pest control inspections and work, sewer line clean outs, and major shrub and tree maintenance are good examples.
Major Replacement or Upgrades
Many investors fail to set money aside for necessary major improvements like roof replacement. Other common major improvements or maintenance can include air conditioning, furnace, water pipes, drain lines and water heaters.
9. Positive Cash Flow
Whenever you're buying an investment property no matter rental or any other, always invest in properties that generate positive cash flow or have the potential to generate positive cash flow.
You have to analyze all your options and invest in a property that will make you money.
Here are some of the factors that you should consider:
Carrying Cost –  mortgage, property tax and insurance
Operating Cost – utilities, services (gardening)
Actual rents
Projected rents
Vacancies
Neighborhood appreciation
10. Exit Strategy
A key part of any real estate investment strategy is your end goal. What do you want from this property? And, for how long do you want to keep it? It's always good to plan ahead. Think about your exit strategy and how you're going to handle it.
Here are some end goals of our investors:
Buy and hold. Develop positive cash flow and then use that to pay off mortgage. Retire off passive income.
Buy and improve. Buy a underperforming investment in a good or up and comming area. Improve tenants, rents and structure. Sell for a big profit.
Buy and sell. This is the Monopoly Strategy. Buy 4 small investments. Sell them for a profit and trade up to one large investment. Repeat.
It is critical to work with a great tax specialist and investment advisor to develop your real estate investment strategy. The wrong move can cost you Big Bucks in additional taxes paid to the government.
PRO TIP: check out our DIGGS Home Services list for our local favorite tax and investment professionals. Also, here are some great tips on how to protect your real estate investment.