Podcast Ep. 4 – Simplify Your Life by Organizing!
Podcast Ep. 4 – Simplify Your Life by Organizing!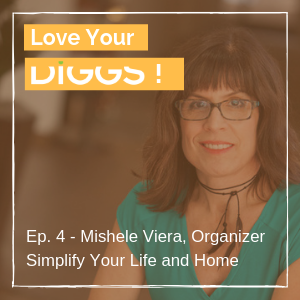 Lots of us would like to live differently than we currently do. We'd like a more convenient home- one story or smaller yard or, maybe even a "close it up and travel" sort of home.
We dream about this easier lifestyle, but we never take action…. because we don't know how to handle our stuff. The weight of all our stuff stops us- we can't seem to take even one tiny step toward realizing our dreams.
Mishele Viera is a certified professional organizer with 20 years of experience helping people cross this divide. Her calm and compassionate voice is more effective than a therapist's couch.
Find out how Mishele begins the process with thousands of people just like you.
Show Notes:
Mishele Viera
818.519.2938
organize(at)awaywithchaos(dotted)com
www.AwayWithChaos.com
Simplify Your Life Live Event at DIGGS
October 18, 2018, 6 PM
DIGGS
3819 Ocean View Blvd.
Podcast: Play in new window | Download
Subscribe: Apple Podcasts | Google Podcasts | Spotify | Stitcher | Email | TuneIn | RSS