New App Makes ADU Process Easier
New App Makes ADU Process Easier
Building an ADU (Accessory Dwelling Unit or "Granny Flat") is still complicated for your Glendale Ca home. However, if your home is in Los Angeles and LA County you are in luck. Los Angeles wants homeowners to add ADUs and is making it dead simple. This is great news for La Crescenta/Montrose, Tujunga, Sunland, Shadow Hills and Altadena!
I just found a slick app that helps you figure out what you can do with YOUR backyard if you are in the above LA County Unincorporated communities.
A startup called Cover is smoothing the process of building backyard homes by helping with the permitting, design, and construction. This new digital tool will tell you if you can build a small second house in your backyard, and how much it might cost. It's a solution that the designers think could help backyard homes quickly scale–and that could help the city address its housing crisis.
The new tool, from a startup called Cover, could help more homeowners actually decide to build. "Right now, understanding what you can build in your backyard, where you're allowed to build it, and what that might cost, is a very time-consuming and painful process for homeowners," says Cover CEO Alexis Rivas. "Usually, it either involves spending thousands of dollars to a professional–someone like an architect or an engineer–or it involves spending hundreds of hours doing zoning research, understanding the building code, and understanding what you're allowed to build."

With Cover's backyard home planner tool, by contrast, someone enters their address, and answers a few questions about what they're interested in building–whether they'd like to have a kitchen, for example. Then the tool automatically determines the zoning requirements for their lot and where a backyard house could go. If a yard isn't suitable for a granny flat, someone will know that in five minutes, at no cost. (Fast Company)
I am super excited about the pre-fab part of the process! If you have a yard suitable for an ADU, Cover can help design a beautiful, sleek, pre-fab unit for about $250. And, lest you think we are talking mobile trailer, take a look at this: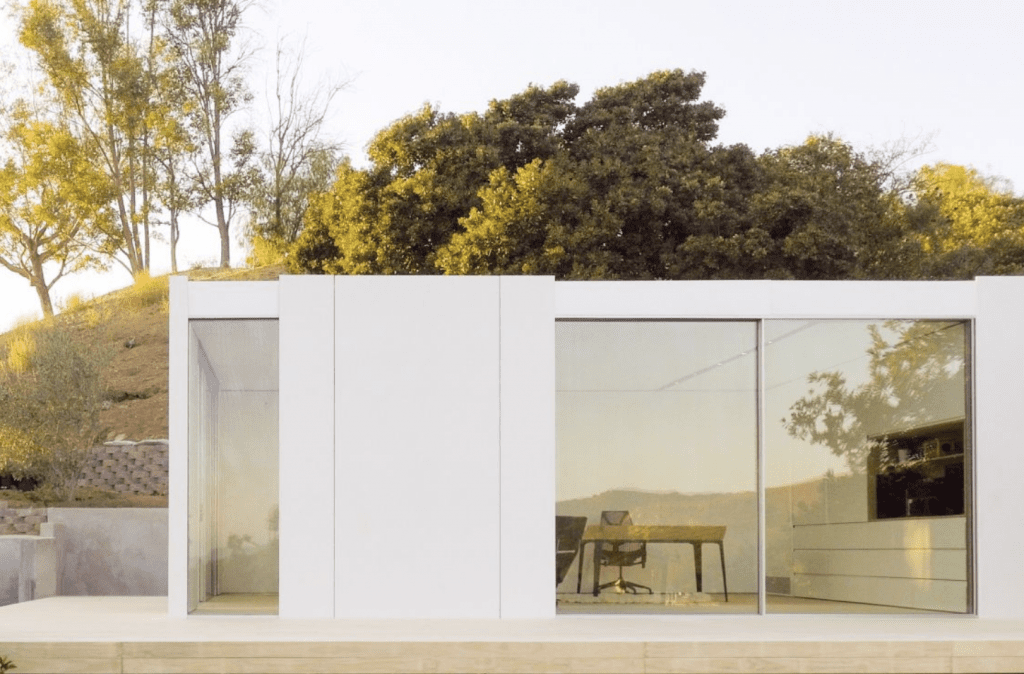 This is Dwell Magazine territory, people.
Now, if you have a Glendale CA home or La Canada Flintridge home the news is not as simple. We have the slide deck from our DIGGS ADU Workshop available on Slideshare. Our architect amkStudios provides a ton of useful information to help you get started.
ADU Information Slidedeck
This is an informative slide deck from amkStudios, presented at the DIGGS ADU Workshop January 25, 2018. All information was accurate at the time of presentation, but rules and regulations are constantly evolving. Please check with your local areas or contact DIGGS for further clarification.