Palm Springs is a Best Place To Retire
Palm Springs is a Best Place To Retire
Palm Springs as a best place to retire is almost a cliché. Heck, I almost didn't include Palm Springs in my series until my pal Paul Kaplan pointed out that I was missing the boat. His Palm Springs ain't yo Grampa's Palm Springs.
Show Notes:
Paul Kaplan – from Pasadena and lived in Palm Springs for 20 yrs. His team has 20 agents who collectively cover the entire desert.  The Paul Kaplan Group was #2 in sales and recently merged with #1 in sales, Bennion Deville making them the undisputed Big Bad Mac Daddy in Palm Springs area. AND they are a local independent broker.
Why is Palm Springs A Best Place To Retire?
Palm Springs is the best place to retire for Southern Californians, but it used to be just a second home community. Today more retirees (and others) live in Palm Springs year-round. Baby boomers move out here before retiring, as well as lots of LA buyers who find Palm Springs far more affordable than LA.
More people can work remotely, so more people buy their first home here and rent in LA.
What Does a Middle-Class Retiree Buy In Palm Springs?
There is a huge range of options for a retiree in Plam Springs area. Options range from condos in the low 100k to a "normal single-family home, 3/2 in Palm Springs for about $500k – $600k.
People don't often realize there are 9 or 10 so different cities in this area. In Cathedral City houses are less – a basic three-bedroom, 2 bathroom home with a pool might sell under $400k; that same home in Palm Desert maybe sells for $500k.
There are lots of options. The bigger question is, "What do you want your lifestyle to be like?"
What Does Each Area (or City) in Palm Springs Feel Like?
The High Desert
The area near Joshua Tree is not really the Coachella Valley, but I visited the Integatron (click the link- this one of a kind attraction was designed to talk to aliens) and that area is super hippy-dippy! The culture there is so different from the Palm Springs area.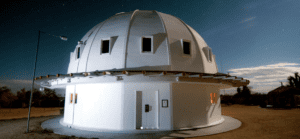 The High Desert is spread out and much more rustic. You get people who want quiet, peace and alone time. Great hiking and the stars are amazing. It's not for everybody.
Palm Springs
Palm Springs has international notoriety, but it isn't just that. There are lots of new hotels, new resorts, a new arena – for music and their own ice hockey! The downtown has a village vibe to it. There is a lot of local boutiques, a big art scene. Some of the most well-known art museums in the country – the Desert Art Museum.
Down Valley
Rancho Mirage and Palm Desert are considered Down Valley- gated golf communities in a different price range from country club condo for mid 200's to million-dollar dwellings. Down Valley is more like the orange county of the valley- more Big Box retailers and the Paseo.
What Is It Like For A Retiree To Live In The Desert?
So- it's a desert it gets hot here. Travel away from Palm Springs in August and September. People learn to adapt. You run around and exercise in the morning. Once the sun goes down it is still hot, but it is a lovely sort of heat. It's really nice.
Everybody has air conditioning and misters. Going from car to home is miserable, but Pasadena is miserable too during those months. You adapt.
What Are Utility Costs Like For A Retiree In Palm Springs?
For a 2000 SF Mid-Century home, you can spend as much as $1000/mo during the hottest part of the year. These homes weren't insulated or designed for summer living.
But a basic newer home is probably less than half of that.
Solar is becoming quite common which can really bring down the cost of air conditioning.
Retirees Are Not The Only People Who Buy In Palm Springs
People buy now as an investment, use it a couple of times a year and rent it out the rest of the time.
Air BnB businesses are controversial, but in general, we are quite friendly toward them. You really need to talk to a local Realtor because some cities don't allow it. Palm Desert banned vacation rentals and Cathedral City is looking at banning them. Palm Springs tried to vote it out, but it lost by a landslide. It is an important part of our economy.
What Is A Smart Investment In Palm Springs?
You have to be concerned about renting it out. The more affordable areas are not always the best rental areas, they are just not as desirable for seasonal renters.
Single Family homes rent year-round, but condos typically Jan – Mar, with maybe a bit just before and after. A Mid-Century done – done home might sell for about $700,000 but can generate $50 – $60k year in rental income.
What Are The Up And Coming Areas For Retirees in Palm Springs?
Up and coming areas – Desert Hot Springs which is about 10 miles north of Palm Springs. It's had a bad rep, but there are working hard and some really cool communities there. You can get a nice house for about $300k.
If you love a Mid-Century you can get more for your money in Palm Desert (but you can't rent it out)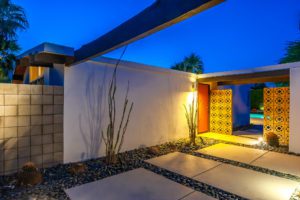 What Is Changing in Palm Springs?
Just a lot of growth. We are attracting a younger crowd. Coachella Music festival brings younger people and more international press and attention. 20 years ago Palm Canyon Drive was a dead zone and now there is lots of life all year around. There are more speakeasy's, wine bars, medical marijuana.
There is a lot that is so fresh and not boring. Desert X Art Installation is all over the desert. Modernist Week can get over 100k people coming out to that. It's exciting.
Tell Me About Your Tiny Home Community in Palm Springs
A developer friend of mine took over an old mobile home community. We designed pre-fab "tiny" homes from the ground up to get the right product and it's been very successful. We are the only community like this in the country and filled them with pre-fabbed homes. We've already sold about 80 – they are perfect from local residents downsizing from their big homes as well as some first time home buyers and some snowbirds.
We are usually under $250,000 and most other newer build homes are 2500 SF and two stories. Two story homes are not as desirable in the desert- baby boomers don't want to deal with the stairs and it's also harder to cool a two story home.
Other New Development In Palm Springs
On the north side of town is a 2200 homes built around an olive orchard. It should open probably next year.
Things No One Tells You About Retiring In Palm Springs
Well, it's hot in the summer. It's the desert. August and September really hot so get out of town if you aren't a heat person.
There are some very windy areas, especially transitioning in or out of the hot season. Your local agent should really tell you if an area is one of those windy areas. It is so significant the windier areas are probably a bit more affordable.
Rancho Mirage- there are parts right under a flight path.
If the property is located under the Imperial District for water and power is less expensive than So California Edison.
How Does A Retiree Find A Great Palm Springs Agent?
You should work with the Paul Kaplan Team.
However, if you are talking to an agent in the desert and you wonder if they are the right agent for you consider the following.
There is a wide range of options to consider in the Palm Springs area. The agent you interview should be finding out what you want from your desert home. They should be exploring your goals and priorities to identify the ideal areas for you before showing you a bunch of homes.
If the agent doesn't do this they are not a real estate professional they are a tour guide.
Click The Photo To Visit Paul's Website. It's a treat to visit!!
EXPLORE OTHER BEST PLACE TO RETIRE
Podcast: Play in new window | Download
Subscribe: Apple Podcasts | Google Podcasts | Spotify | Stitcher | Email | TuneIn | RSS