La Cañada Flintridge Home Guide
The La Canada Home Guide is your go to resource for living and investing in La Canada.  is all where relatively high net worth people live a peaceful, small town existence.
La Cañada Flintridge is located off the 210 freeway, just west of the 134 interchange. The Angeles Crest mountains are to the north, Altadena is to the east, the Canyons area of Glendale is to the south and La Crescenta is on the western border. It is not technically Glendale CA neighborhood, it is County of Los Angeles. La Cañada is served by it's own school district, a water district and county services for gas and electric. Private trash services are available throughout the city.


La Canada Flintridge is actually two cities merged into one. La Canada was located along Foothill Blvd and above originally an unassuming neighborhood that took pride in its mountain community roots. Single story homes on large lots (by city standards) are common and architectural styles were typically ranch with a few Spanish and English sprinkled throughout.
Flintridge was its affluent neighbor and it was filled with larger homes on irregular and large lots in the mountains. The well to do residents commissioned custom homes in every style from Georgian Plantation to English Manor to California Ranch.
The two communities joined forces and incorporated into a single city in 1976.
La Cañada is convenient to major attractions like Downtown Los Angeles, the Rosebowl, Old Town Pasadena and many major studios. There is even the Summer Beach Bus, a resident only service connecting La Canada to Santa Monica Bay.
La Canada Insider Intel
No one would mistake La Canada for a walkable town, but living closer to the "village" portion of town is a real convenience! Consider Flintridge Flats or Upper Oakwood for La Canada homes that are closer to town.
The La Canada target is a super gem! Yes, I know target is a huge national company, but our Target is exactly the right size and filled with exactly the right things. The parking is easy and it's rarely overcrowded. WIN.
The divine Descanso Gardens and the Hahamonga Watershed (with one of the top rated frisbee golf courses) are major La Cañada attractions.  Explore JPL is once a year and visitors flock to see the latest in space exploration. Be warned- this is now a super popular event and tickets are snapped up quickly.

La Canada Home Report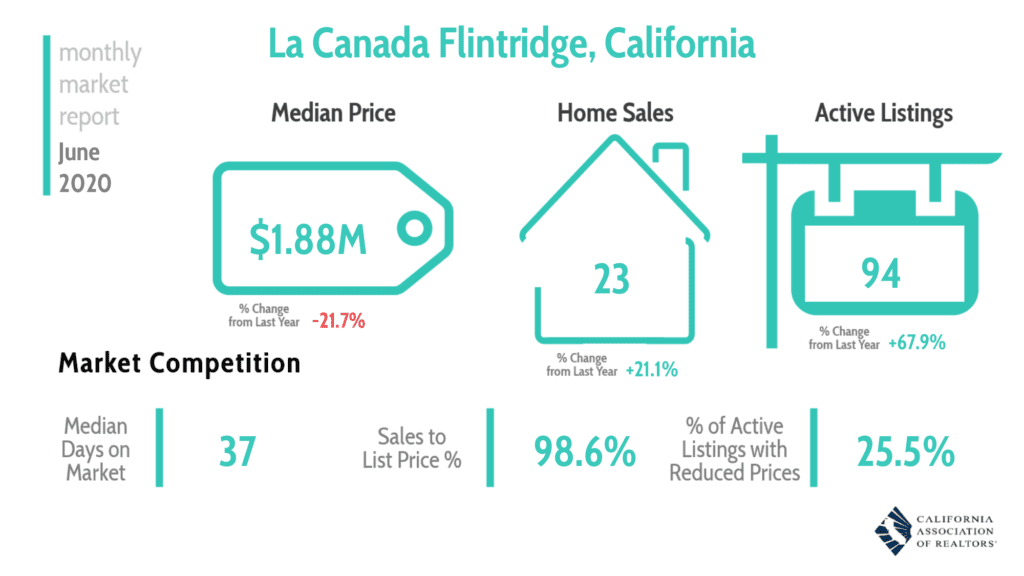 La Canada Home Report Archive

What We Love About La Canada
We love the small town mountain community vibe in La Canada. It is an affluent community but still casual and low key. There is everything from granny homes to mansions and a great mix of generations deep families and newcomers. This means there is room for anyone to get involved and feel connected.
Stuff We Don't Love
Watch out for large SUV's – they are often driven by overwhelmed and over scheduled parents, too distracted to watch out for smaller cars.
La Canada Schools
The La Cañada School District is a destination system for families all over Southern California as it is considered one of the top districts in the entire state. All public schools rank at a 10 on the Great Schools website and there are several renown private schools. Academics and sports are emphasized, but there are opportunities for a wide range of interests within the district.
Many families come to La Cañada Flintridge for the schools. The public school district is one of the highest-ranking districts in California and private schools like Flintridge Prep, St Francis and Learning Castle are highly regarded. It is important to understand school boundaries when buying a home in La Canada.
There is a small slice of La Canada called the Sagebrush that belongs to the Glendale Unified School District. The residents of this neighborhood have been aggressively trying to transfer their homes into the La Canada school district. Read our Sagebrush Transfer post for the latest news on this effort.