Hiking in Brand Park
Hiking in Brand Park
People who live in Northwest Glendale know that hiking and mountain biking is a favorite activity.
Take the fire road that starts at the Doctor's House. The first part of this hike is a bit wicked as the fire road consists of several really steep switchbacks (Man, I really hate switchbacks). About halfway through these switchbacks is a Cool Thing.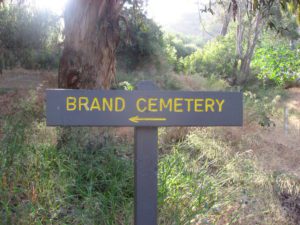 Follow this sign to the left.
The C.J. Brand family was a notable founder of our fair city and the Brand Art and Music Library was their private residence and the entire park was their backyard. The family is buried in their own, private, cemetery. The main monument in this family plot is a large pyramid with the family plots scattered around.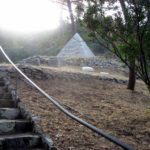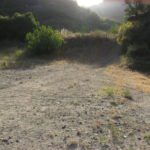 At the end of all the switchbacks and past the debris basin you will come to a large, flat, bend in the road. The fire road will continue at a sharp left. However, there is a fairly tall berm straight ahead with two rather narrow trails going over the top. Take this route for a more verdant and interesting hike! This is not a manicured trail, and there has been quite a bit of erosion from the '05 rains, but the wildflowers are impressive and the poison oak is not too bad.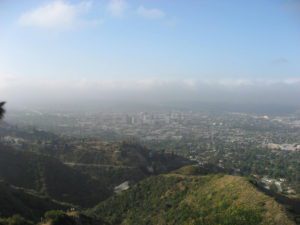 The hike, from here, is pretty straight forward to the old reservoir. I am not really sure if the huge, flat place really was the site for a cistern, of sorts. It certainly seems large enough. What I can tell you is the views from this mesa are tremendous. Unobstructed, 360 degree views encompass the entire Los Angeles Basin, no joke.
The second part of this hike is simply wicked. If you look up, toward the mountain, you will see a line of medium-sized power poles. Under these poles is a trail that looks like a mountain goat track. It is stupidly steep, covered in loose scree and wizened old men clamber up this trail like it was a walk in the (flat) park. I huffed and wheezed my way up and all I can really tell you is that a.) I made it to the top, b.) no less than 3 old men calmly passed my sorry behind on the way up, and c.) said sorry behind got a serious workout.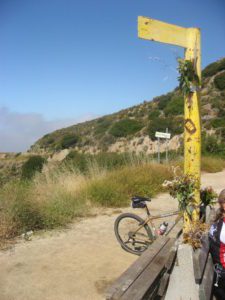 Once at the top you do a bit of a victory jig and then take the fire road back down. Not even the old men go back down that scary steep goat track.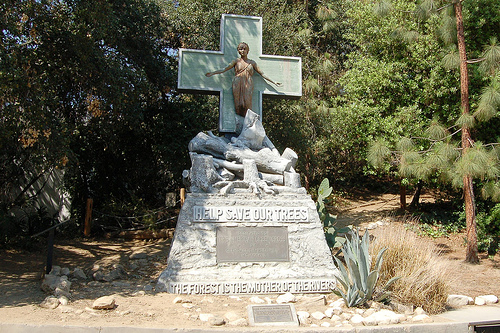 I've been training for the Verdugo Hills 10k every Sunday (**woopf!**) and I have Brand Park on the mind.  Each morning we meet right here at this most unusual statue- The Miss American Green Cross
Here is what the Glendale City Website has to say about this statue:
The statue of Miss American Green Cross was created in 1928 as a tribute to an early 20th Century tree society and a symbol of the deforestation that was taking place across the country at that time.

After a car crashed into the statue, it was dumped behind Brand's Castle, and laid abandoned for 30 years. Hikers discovered it in an overgrown canyon in the mid-50's reporting that the arm of Miss American Green Cross was missing. It was assumed that vandals had carried it off. In 1981 the monument was taken to the city maintenance yard where she remained for 10 more years ~ until Glendale Parks, Recreation and Community Services, along with the organization Glendale Beautiful, raised money to have her restored.
The statue was created to commemorate preservation of our forests and to remind everyone that trees are a renewable resource – if you manage them properly. Even in 1928 there were forward thinking environmentalists…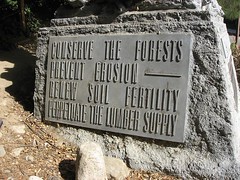 A long time resident and loyal Glendale DIGGS blog reader, Pat Savatgy (Hi, Pat!) commented that she remembers when this statue was actually about 1/2 mile up the fire road toward the Brand Family Cemetery. She said that in it's former location vandals would often deface the statue with paint.
You know, any city in America will have your basic statue of some historic figure (some old, white dude, right?). But, here, in Glendale, we have some truly interesting stuff.