Brand Library and Art Center
Brand Library and Art Center
Brand Park is one of my all-time favorite places, so I wanted to share some of it's charms and background with you. This article is very "link-rich", meaning I've included links to all sorts of neat gems elsewhere on the net. Click away and enjoy!
Brand Park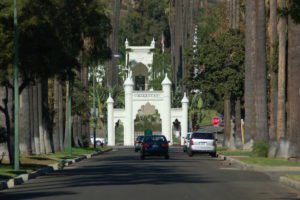 The most visual icon in Northwest Glendale are the gates to El Miradero – the entrance to Brand Park.
The park has many components – The Doctor"s House, Whispering Pine Teahouse & Friendship Garden, The Brand Museum and Library, some of the best hiking in the area and, in this humble parent's opinion, one of the best play structures in town.
El Miradero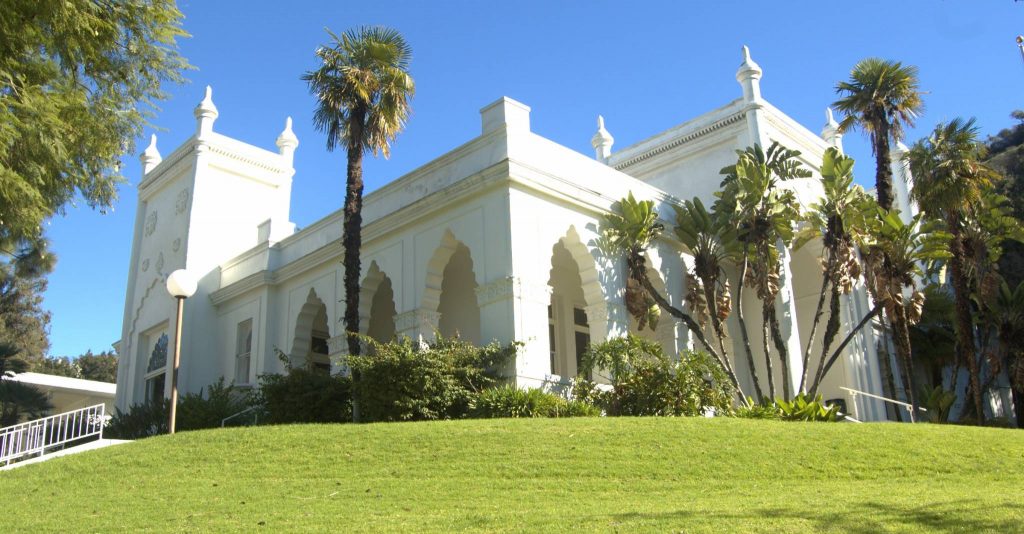 El Miradero was the main residence for Leslie C. Brand, an important businessman, banker and instrumental in bringing the Pacific Electric Railway, or the "Red Cars," to the Glendale. El Miradero means "a high place overlooking a wide view" and the building was built by Brand's nephew, architect Nathaniel Dryden. The design, often mistaken as simply Moorish, is actually inspired by the East Indian Pavilion built for the 1893 Columbian World Exposition held in Chicago. The architecture is considered Saracenic, with crenelated arches, bulbous domes and minars combining characteristics of Spanish, Moorish, and Indian styles. The interior was richly decorated with silk damask wall coverings, handcrafted woodwork and Tiffany leaded glass windows.
The house contained five bedrooms, a solarium, parlor, living room, drawing room, dining room, and music salon. On his expansive grounds, Brand built a clubhouse, tennis courts, a swimming pool, kennels, a dog graveyard, and a family cemetery. He even built an airstrip and hangar for his airplane collection. The airstrip is now called El Miradero Ave. and it is lined with gracious homes.
In 1925 Mr. Brand died, leaving the estate to the City of Glendale upon the death of his wife. In 1945 Mrs. Brand died and by 1956 the 5,000 sf mansion had been turned into a beautiful Art and Music Library for the public to enjoy. A little known rumor is that the ghost of Mr. Brand might still inhabit the building. Here is a wonderful article by Nancy Garza, originally printed in the Glendale News-Press in 1993.
The City of Glendale, in it's quest to create a center for those who love the arts, added 21,000 sf of space in 1969, including an art gallery, a recital hall, a sculpture court, and Brand Park Studios. There are also art exhibits, lecture series and a dance series every spring.
In 2012, the City of Glendale engaged architectural firm Gruen Associates to lead the highly anticipated renovation of the Brand Library, in partnership with Offenhauser/Mekeel Architects, specialists in architectural design in authentic styles. The $9.5 million dollar, two-year renovation project included long overdue seismic bracing; a new HVAC system; a new roof; new plumbing, data, and electrical systems; and real accessibility everywhere. Brand Library & Art Center reopened on March 27, 2014.