Cool Home Crush – Mid Century Before and After
Cool Home Crush – Mid Century Before and After
This is a Transformation Story of a well-loved (but dated and tired) post and beam Mid Century home in Glendale- specifically, the magical Whiting Woods. Long time readers of our La Crescenta Neighborhood Guide know that Whiting Woods is one the areas most loved neighborhoods.
When the current owners found 3525 Whiting Woods is was empty and sported some of the most fashionable (in 1972) wallpaper we have ever seen. But the floor plan was a classic post and beam mid century- large, open spaces and walls of glass that blurred the line between inside and out.
The current owner is a team of award-winning architects and designers and obvious devotees of the mid-century genre. The changes were minimal but added maximum impact and the entire effect would please any Mid Century purist.
Here are just a few before and after pictures.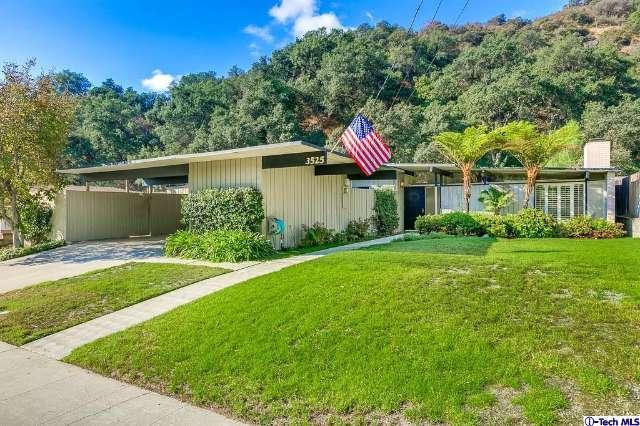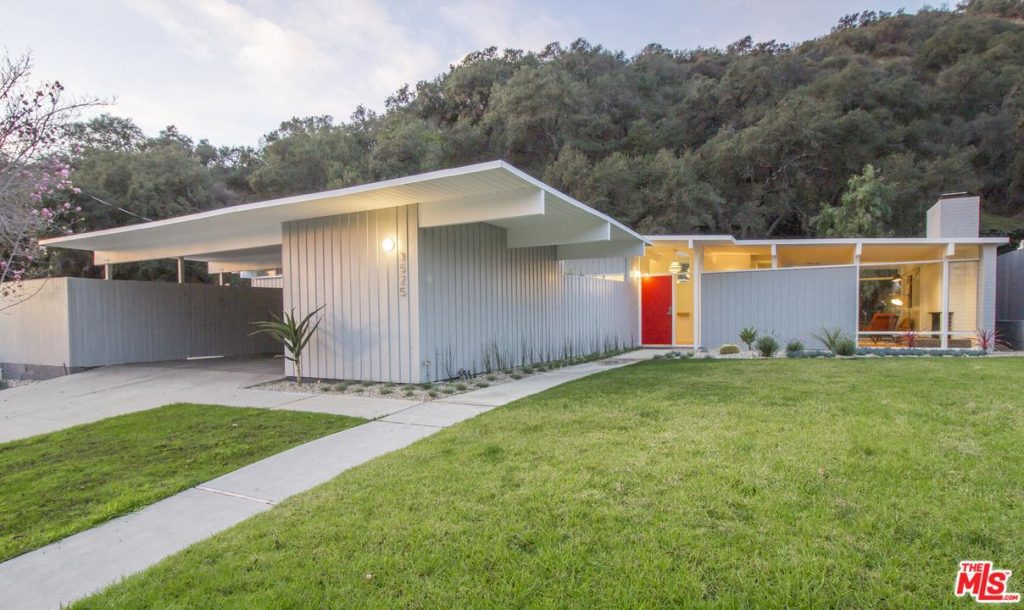 I love the clean minimalist landscape design but is a bit at odds with the surrounding area. In the past, the home blended in with the landscape. Today the home pops out and demands attention.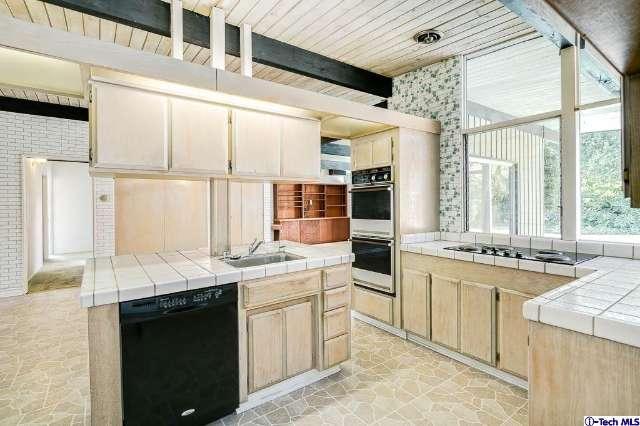 I love the brilliance of the new kitchen design. The original kitchen featured an island that separated the kitchen from the breakfast area. The new design turned that island ninety degrees and incorporated the breakfast area into a modern spacious room that will serve as the nerve center of the home.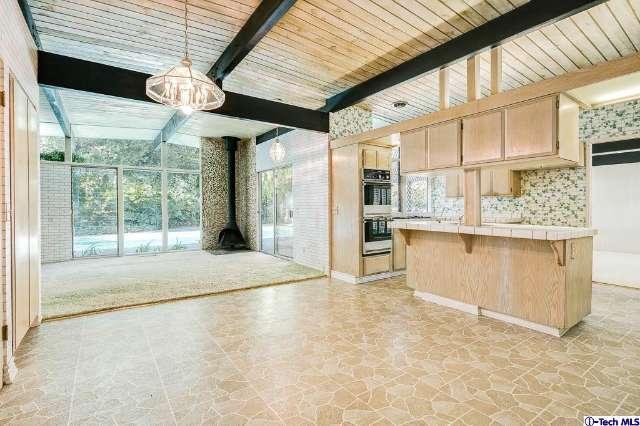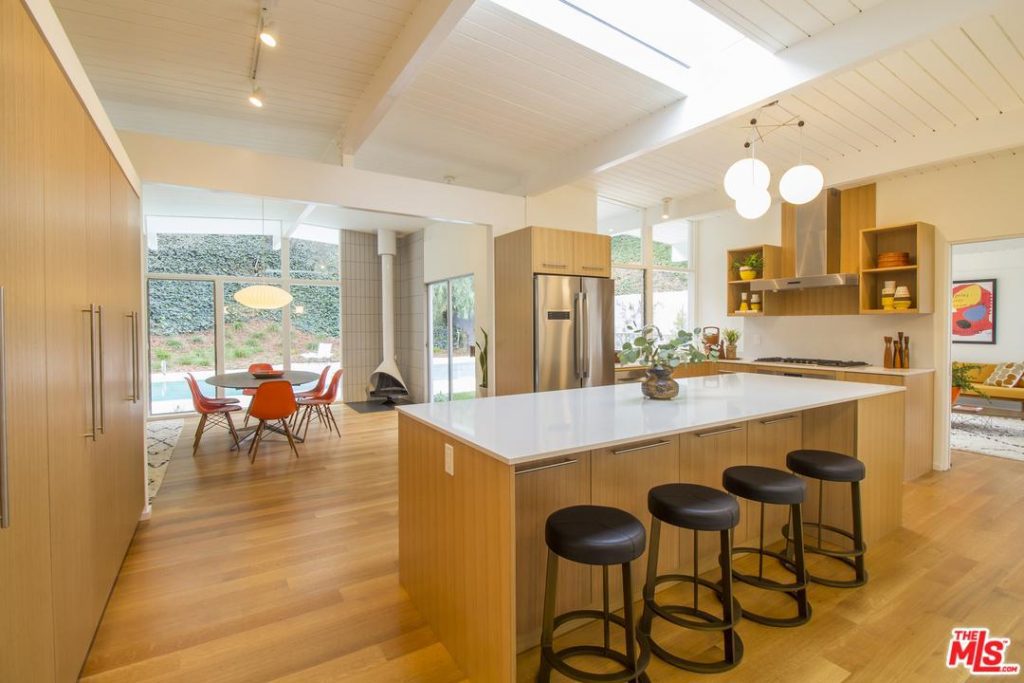 Here is another view of the kitchen that shows how the breakfast room was modified. The new island is large enough to handle multiple activities at once and the breakfast bar is perfect for today's more on-the-go lifestyle. Added bonus… do you see all the storage that is incorporated into every little space?!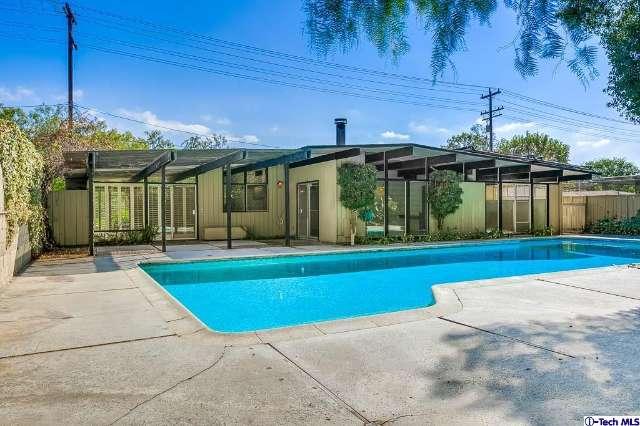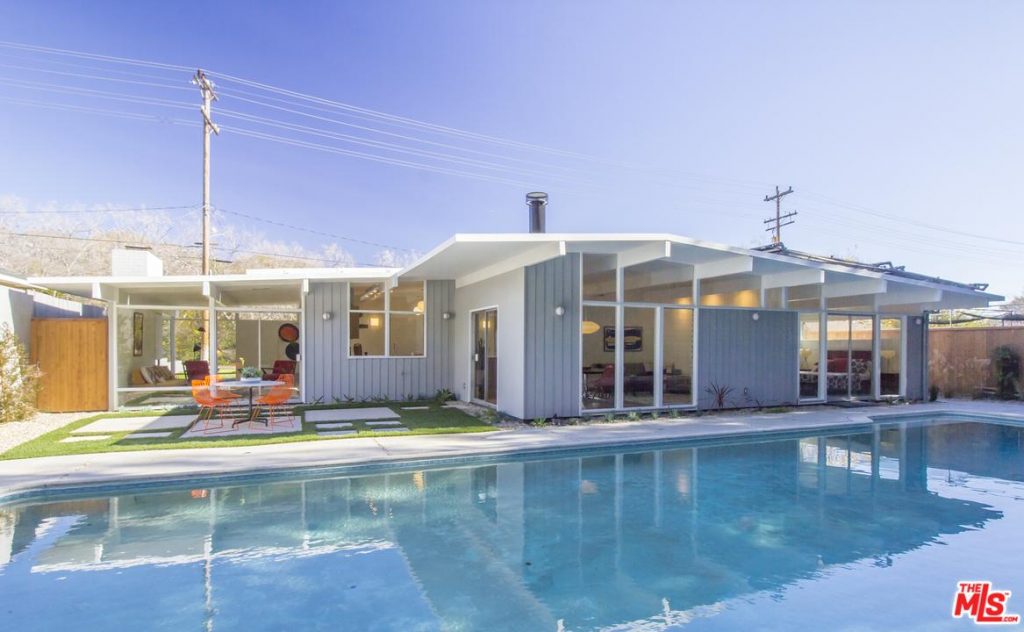 The backyard is largely the same, but the lattice patio cover was removed and the concrete broken up into a concrete and grass entertainment area. This is a great move to ensure the Living Room is super cheery and bright and the grass softens the unrelenting concrete of the pool deck. However, I think the occupants will put the patio cover back after living there for a while.
This work of Mid Century art will not last long. It is priced to reflect it's quality – $1,499,000 and it will seem a very fair price to the quality conscious buyer.
3524 El Lado Dr. click the link to see all the magnificent photos and/or to arrange an appointment to view.
Check out our DIGGS Cool Home Collections for our very favorite Mid Century, Spanish Style, Character Homes and Fixer homes available on the market today!!
Also, would you like to explore this area in more detail? Check out our Whiting Woods Neighborhood Spotlight for facts, special features and more homes for sale.