Lynne Graves- Easy Party Planning
Lynne Graves- Easy Party Planning
Some people excel at throwing the best parties. Some people get a case of the hives just thinking about hosting a dinner party.
Lynne Graves of Party Host Helpers is an expert in helping the "party challenged" become the host with the most. In this wide-ranging conversation Lynne shares some absolutely killer ideas for parties that are easy, cost friendly and memorable. She also gives us some secrets on how we can love our parties more.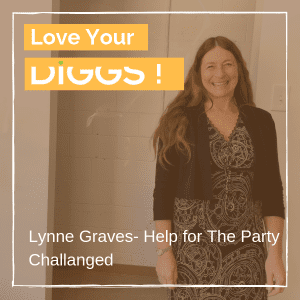 SHOW NOTES:
Catering
If it is catering- put all the pressure on the caterer. Give them an idea of how many and what type of menu and specify your budget. Don't be afraid to set a budget first and then ask them what they can do within that budget. Be bold about asking.
Just very loose rules of thumb- $20 a head for hor d'ourves and maybe $30 for a sit-down dinner.
Staffing (set up, clean up, serving etc.) is generally an extra fee.
Dishes, serving utensils, glassware etc is usually also an extra fee. Delivery, cleaning, maybe even some breakage is often included.
You typically pay a deposit upfront and the balance is at the time of event.
Free Lance Helpers
Lynne has single event helpers for hire. She can provide one, two or more staff for almost any budget. They can set up, clean up, serve, replenish drinks, etc. It costs about $45/hr per helper. Her company doesn't have any minimums.
Party Themes
For Halloween: Cocktails and Costumes, Monsters and Martinis, Booze and Boos, Cosmos and Cauldrons
Football Parties: Mason jars are super flexible. Ice tea or ice coffee in a mason jar and use white duck tape to mimic the laces on a football. They are great for flowers and centerpieces.
Dinner Party: Go Iron Chef and have everyone bring a dish featuring a specific ingredient.
Kids Parties: Favorite Color (decorations, cake and ask guests to dress in that color), make your own mini pizzas, decorate aprons that become their party favor. Squirt Gun painting- fill water guns with food dye and let them squirt canvas or poster boards.
Adult Interactive Activities: Sangria Bar, Hot Dog Bar, Desert Skewers,
Contact Lynne
Lynne Graves, Party Host Helpers
http://partyhosthelper.com/
Podcast: Play in new window | Download
Subscribe: Apple Podcasts | Google Podcasts | Spotify | Stitcher | Email | TuneIn | RSS