Glendale Solar Eclipse Information
Glendale Solar Eclipse Information
Are you getting excited about the 2017 solar eclipse in Glendale, CA in just a few days? Many of my friends are traveling into the path of totality, but I am not. It just didn't seem like that big of a deal…and it is too late to change my mind. Everything in the path of totality has been booked for months.
So- if you're like me, you are going to make the best of it right here, at home. Here are a few resources that might make the whole thing cooler.
General 2017 Solar Eclipse Knowledge
Our neighbors, JPL have created a very cool (and complete) site filled with everything you need to know about the 2017 solar eclipse. History, facts, tips and timing are all presented in easy to understand graphics and bite sized posts. We've pulled out a few gems that you need to know.
What Time Will The Solar Eclipse Happen in Glendale?
It looks like the 2017 Solar Eclipse in Glendale starts at 9:05 AM, hits maximum eclipse (we can only see a partial eclipse) by 10:21 AM and will finish by 11:45 AM.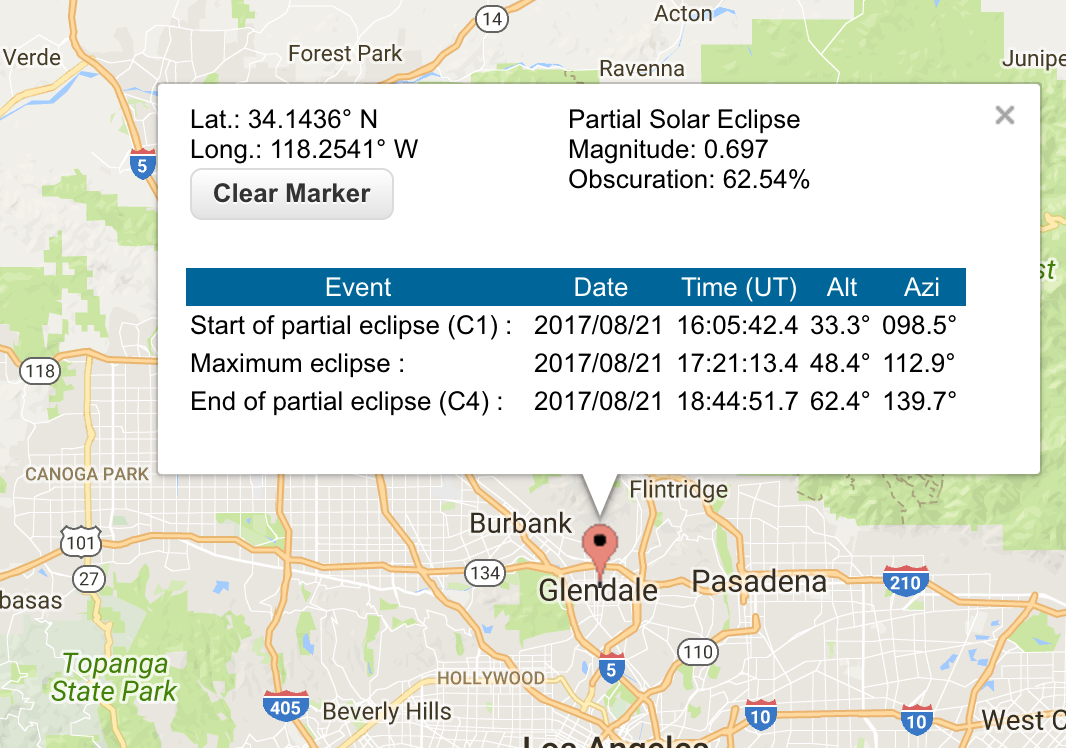 You can play with the 2017 solar eclipse interactive map yourself, here.
How can you see the 2017 Solar Eclipse in Glendale?
There are lots of Solar Eclipse viewing glasses that you can buy on the interwebs, but a quick search on the Amazons shows almost everything is sold out. I was planning to go old school with the projection method- poke a hole in a bit of paper and watch the shadow as the moon moves over the sun. Not sexy, but very effective. We did this for the last eclipse and I found it pretty thrilling. Click here for an article on 2017 Solar Eclipse safety tips.
2017 Solar Eclipse Glendale Viewing Party
If you don't have fancy viewing glasses and want something more than a pinhole in a bit of paper you're in luck. The Glendale Community College Planetarium will be open for the August 21st eclipse from 9:00 am unitl 12:00. There will be eclipse viewing glasses, streaming NASA video, and fun activities. Staff from NASA and Glendale C. C. will be on hand to answer questions. Click here for 2017 Solar Eclipse in Glendale Viewing Party at Glendale Community College.