La Canada Sagebrush Schools are a critical issue for prospective home buyers AND home sellers. If you are considering a move in or out of the Sagebrush call DIGGS. We are the local experts who can help you make good long term decisions.
The La Canada Sagebrush neighborhood is unique because it is wholly contained within the City of La Cañada, but it's children belong to the Glendale Unified School District. You can read our latest post on the La Canada Sagebrush Transfer here.
This gives it a double-edged sword. On the one hand, Glendale Schools, while respected and desirable, do not have quite the storied reputation that the La Cañada schools possess. On the other hand, home prices are marginally more affordable in the Sagebrush than in the rest of La Cañada.
LA CANADA SAGEBRUSH HOMES FOR SALE
Sorry we are experiencing system issues. Please try again.
LA CANADA SAGEBRUSH HISTORY
There is an exhaustive timeline on the development of the Sagebrush La Canada  here. Here are the highlights:
1940       Enumeration District 19-246 of the 1940 U.S. Census, which included the northwest portion of La Cañada was divided along Rosebank Drive between state Assembly Districts 42 and 48 consistent with the lot lines drawn in the 1870s. Just 45 households were identified by the census enumerator within AD 42, which closely approximates today's Territory.
1950s     Fearing annexation to Glendale, Territory residents petitioned for their post office address to be changed from Montrose to La Cañada, which was accomplished
1961       Formation of LCUSD (Territory not included); first petition from citizens of Territory to be part of the newly-formed LCUSD was not successful
WHAT PEOPLE LOVE 
There is a pleasant mix of rural tranquility, interesting homes and stunning views in Sagebrush. Ocean View provides a straight shot from the top of the neighborhood all the way to the freeway entrance and a pleasant mix of retail, grocery and restaurants are located at the base where Foothill Blvd and Castle Rd. meet.
There all sorts of interesting nooks and crannies within La Canada Sagebrush. One day I stumbled upon a charming cul-de-sac called Oakado Pl just off Lyons Dr. It had a super cool old estate at the end of the drive. Or, the pair of Lion statues marking the entrance to a private lane. Last week I wondered down a walkway right off Rosebank and wound up, after a very pleasant stroll through the "countryside", at the Palmcrest Elementary play-yard.
Evenings and early mornings are for walking- with dogs or without, and everyone is friendly and welcoming in the Sagebrush.
What People Don't Love
Some people don't like living in one town (La Canada) and having their kids belong to a school district in another city (Glendale).
FAVORITE LOCAL ATTRACTIONS IN OR NEAR SAGEBRUSH
Lotte Korean Market – It is impractical for me to drive over to Arcadia whenever I need an ingredient for my favorite home cooked meals. Lotte Market is right at the bottom of Castle Rd. and it is surprisingly well stocked market considering it is about the size of a 2 bedroom apartment. Favorite items are the prepared hot food items at the front of the store (you MUST try the chicken wings. They put Buffalo Wings to SHAME)
The Dairy – The former Altadena Dairy is a landmark for La Canada Sagebrush. We love it's Googy inspired architecture. The new owners have created a unique local treasure with an ever-changing mix of local products and interesting food finds.
Mountain Ave. Elementary School – Long considered the jewel of the Glendale Elementary Schools. This special place contains an incredibly dedicated and active parent population who come together in creative ways to raise funds, create programs and support the teachers and children alike.
SCHOOLS
La Canada Sagebrush has a complicated school profile. Currently residents send their children to these Glendale Unified Schools:
Mountain Elementary
Rosemont Middle School
Crescenta Valley High School
Clark Magnet School
However, residents are actively trying to transfer their children to the La Canada School System. This battle is 40 years old but it seems we are getting closer to a resolution. You can read the latest news in our La Canada Sagebush Transfer post.
HOUSING
People love the semi-rual feel to La Canada Sagebrush. There is everything from modest cottages to literal castles in this ecletic neighborhood.
A notable castle is on Cross St., just before Ocean View Blvd. This Disney inflected fairy tale castle looks like the home Snow White built after she ditched that loser Prince C. She is powerful, on her own and living free in the Sagebrush.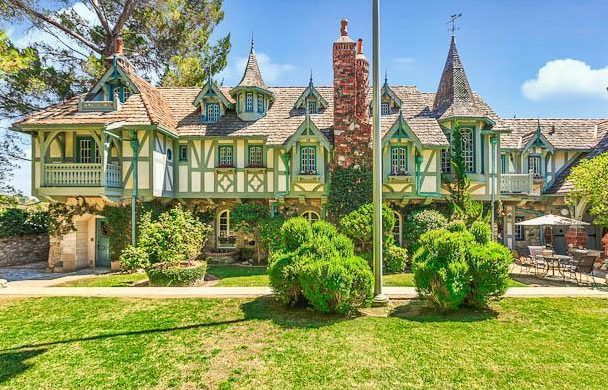 The Sagebrush is also home to a number of delectable Web Wiley Mid Century Atrium homes.
LA CANADA SAGEBRUSH HOMES FOR SALE
Sorry we are experiencing system issues. Please try again.