4th of July…Childhood memories filled with fireworks, BBQs, family gatherings and chasing fireflies. We have four major 4th of July celebrations and firework shows near Glendale that might be of interest to you and your family.  Each one has it's own flavor and purpose.
DIGGS Favorite: Crescenta Valley Fireworks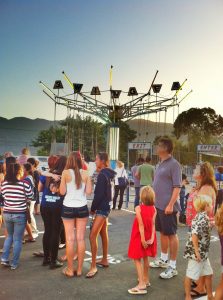 My all-time favorite fireworks celebration is neither world famous nor filled with military jets. It is our homegrown, locally supported, Crescenta Valley Fireworks Show. It is held on the Crescenta Valley High school field off of Ramsdell Ave. Tickets are $9.00 preorder/ $10.00 at the gate (until sold out) and gates open at 4pm. This is the best neighborhood party of the year and some families have been coming to this Celebration since the very beginning.
This show is so popular they close the gates at about 8:30pm because tickets sell out. The fireworks start at 9:00pm. There are food booths, games, carnival rides and an endless supply of friends and neighbors. Plus, the food trucks are back! Berlin Truck, Kabob Kings, Smokin' Willies BBQ, and more. More info: www.cvfireworks.com
Explore this neighborhood on our La Crescenta Neighborhood Guide
The Mac Daddy Fireworks Show – Hollywood Bowl
The Hollywood Bowl is famous around the world. Legendary hitmakers Nile Rodgers and CHIC team up with the LA Phil for a three-night celebration. The concert begins with star-spangled American favorites by the orchestra. Then, Nile Rodgers & CHIC set things off with "Le Freak" and "Good Times," plus some of Nile's hits as a producer – including "I'm Coming Out," "Let's Dance," and "Get Lucky."
Come early for a Disco Throwdown
Every night before the concert, we'll be boogieing down in the Hollywood Bowl Plaza with DJs, disco dance lessons, and more surprises. Dress to impress in your best flashback looks and get ready to get loose!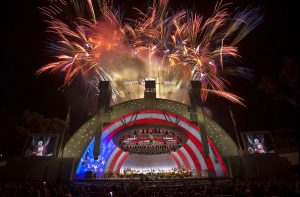 Nearly as Famous – The Rosebowl Americafest
Nearly as famous is The Pasadena Rose Bowl. This is a true community style event where the festivities start at 2PM and continue through the night.  Parking lots open at 9AM and people often tail gate with friends and family all day long.  Lot H will have food booths and games starting at 2PM.  At 7:30 the thrill seeking motocross show will start and the fireworks will begin at 9:00.  General admission tickets are $13.00 and parking is $20.00.
More info: www.rosebowlstadium.com
Explore this neighborhood at our Pasadena Neighborhood Guide
Local Favorite: Burbank's Starlight Bowl
On the other side of Glendale lies the Starlight Bowl in Burbank. This celebration really satisfies the truly patriotic among us. Back for another rocking concert are the Kings of 88  – 88 keys on the piano, 4 top pros from the LA music scene on 1 stage having a rocking good time! That's The Kings of 88. Presenting a fun-filled tribute to the legends of piano-rock including Elton John ("Take Me To The Pilot," "Honky Cat"), Billy Joel ("My Life," "Big Shot"), Billy Preston ("Nothing From Nothing"), Little Richard ("Keep a Knockin'"), Leon Russell ("Tightrope"), Stevie Wonder ("Living' For The City"), Bruce Hornsby ("The Way It Is"), Coldplay ("Clocks"), Jerry Lee Lewis ("Whole Lotta Shakin' Goin' On"), and more. Festivities start at 6:30pm and fireworks start at 9:00pm.
More info: www.starlightbowl.com
Wherever you go (or not go) to celebrate our nation's birth, be safe and be sane.
PS. Are you a pet parent? Be sure to read our post on pet safety and fireworks. It might save your pet's life.