La Crescenta Real Estate Market Report
La Crescenta Real Estate Market Report
**Updated for September 2019**
It is time for the La Crescenta real estate market report. What happened in September 2019 and where is the market trending?
LA CRESCENTA REAL ESTATE MONTHLY MARKET REPORT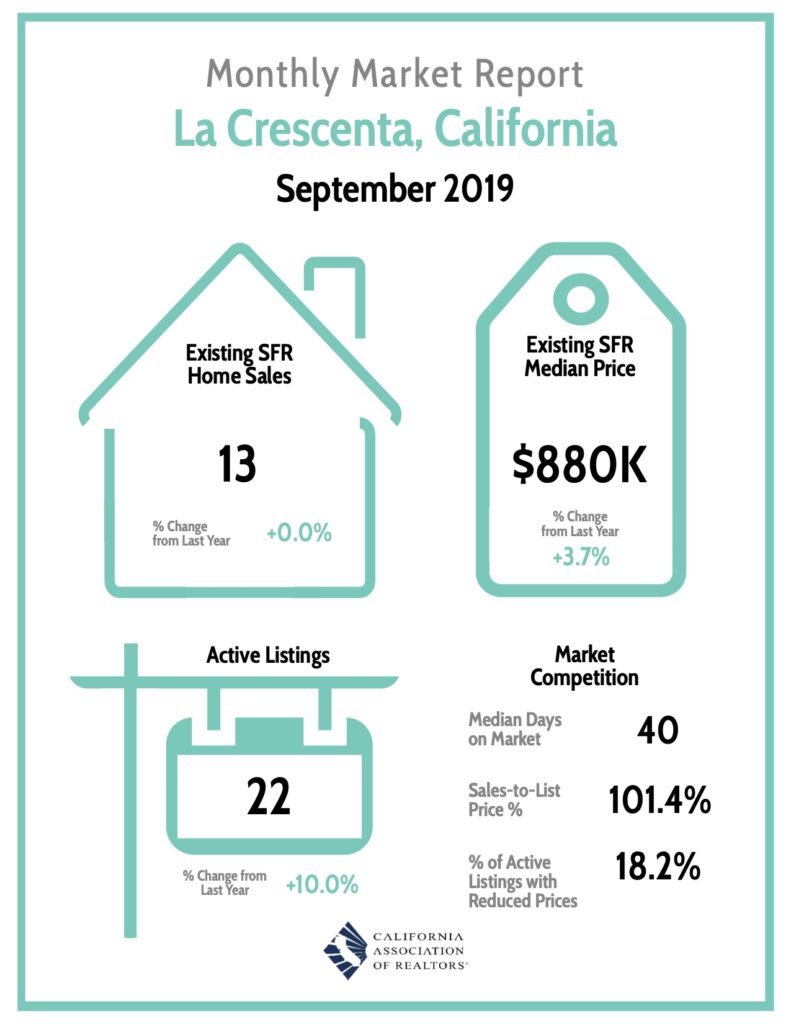 La Crescenta Real Estate Market Report Home Sales
We sold 13 single-family homes in La Crescenta in September, in August we sold 16. Interestingly, we sold exactly the same number of homes in September 2018.
More La Crescenta Homes On The Market
The really good news is there are more homes on the market in La Crescenta. 22 homes on the market are available in September versus the measly 14 homes available in August. And there were 10% more than were available this time last year. That really good news as there is strong buyer demand in La Crescenta!
Home Prices Are Up In La Crescenta
The average price for a single-family home in La Crescenta in August was $810,000. The average in September was $880,000. This is obviously a great monthly increase, but it is also 3.7% higher than the average sales price this time last year.
Be the "Best In Show"
Even if you are not ready to list your home this week, start getting your home into "Best In Show" condition. Knock out all those niggling maintenance issues. Complete everything on your "honey do" list. Start deep cleaning and decluttering your home, one room at a time.
Need a plan? Check out our 30 Day Guide to Getting Your Home Ready For Sale. There is still time to get your home sold in 2019!
Are you thinking of buying or selling?
Don't Gamble, Get DIGGS
NEWEST HOMES FOR SALE IN LA CRESCENTA