La Cañada Real Estate Market Report
La Cañada Real Estate Market Report
**Updated for September 2019**
It is time for the La Canada real estate market report. What happened in September 2019 and where is the market trending?
LA CAÑADA REAL ESTATE MARKET REPORT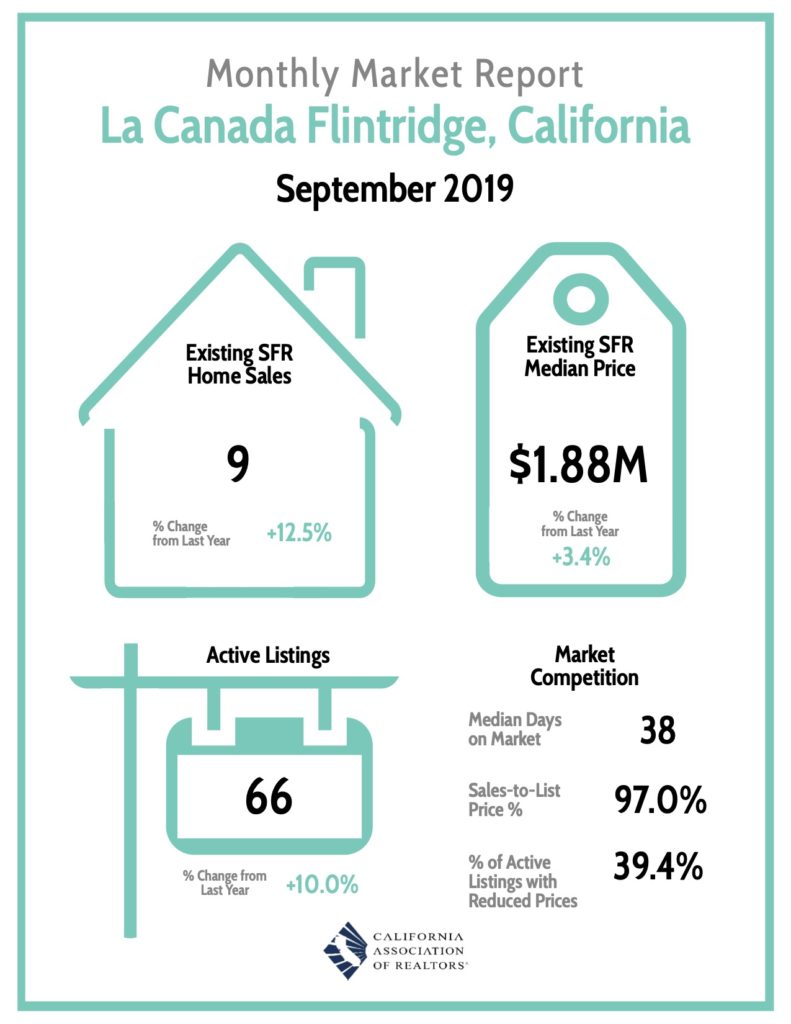 La Cañada Real Estate Market Report Is Positive!
This La Cañada real estate market report has lots of good news!
Everything is tied to the school schedule in La Canada and the first month of school is the LAST month a parent will think of buying a home in La Canada. We sold 9 homes in Septmeber and that is way down from the 24 we sold last month. However, it is still more than 12% higher than our number of sales this time last year. Considering the luxury market is down, statewide, we should feel great about the La Canada homes sales market.
La Cañada Real Estate Market Report Prices Are Up
We went from $1,880,000 average sales price in August to $1,710,000 average sales price in September. We also increased our avwerage from last year, this time.
List Price To Sales Price Ratio in La Cañada is Down
It looks like buyers are getting a tad more of a negotiation out of home sellers in September. The list price to sales price ratio is 97% compared to the 99% in August.
Fewer La Cañada Homes Have Price Reductions
On the other hand, fewer homes in La Cañada have had to reduce their price. Last month nearly half the active listings in La Cañada had a price reduction, this month it is only 39.4%
There Is Time To Sell In 2019
If you want to sell and get the a deduction for the cost of selling in your 2019 tax return, there is still time!! Buyer demand is strong and the good homes are seeing tons of activity and strong offers.
Are you thinking of buying or selling?
Don't Gamble, Get DIGGS
NEWEST HOMES FOR SALE IN LA CAÑADA