Eagle Rock Neutra Recreation Center
Eagle Rock Neutra Recreation Center
Mid-century architect Richard Neutra is most know for his residential designs but this amazing public work happens to be the Recreation Center at Eagle Rock Park.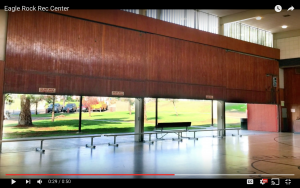 Neutra, one of the most important modernist architects was born in Vienna in 1892 and studied extensively in Europe. He came to the US by 1923 and briefly worked for Frank Lloyd Wright before he began working and living communally in Los Angeles with university pal and fellow architect Rudolph Schindler. He went on to design prolifically throughout the world, winning several awards and building an important body of work across a world landscape.
The Eagle Rock Recreation Center was built in 1953 and won a prestigious AIA award. Opened to the public in 1954, it's been part of the lives of children and adults throughout the Eagle Rock community for generations. In 2016 the Eagle Rock Neighborhood Council voted to allocate funds to improve the property and restore parts of the building.
Featured in Taschen's Neutra. Complete Works, The Eagle Rock Recreation Center has been called one of Neutra's finest designs by the Los Angeles Conservancy and was designated a Historical- Cultural Monument in the 1980's. It is truly a hidden gem right in our own backyard.