Sold Story – First Time Buyers, No Down Payment
Sold Story – First Time Buyers, No Down Payment
Alex and husband are normal first-time buyers
They had very little money set aside for a down payment, but they knew to buy a home was the best way to accumulate wealth. So they came up with a plan.
Using techniques they found in DIGGS First Time Homebuyer's Guide the boys figured out how to buy their first condo in Downtown Glendale.
Please introduce yourselves
I am Alex Calleros, a film maker and editor and my husband is a transportation planner. We were Glendale Ca home buyers during August and September, 2016
What sort of decision makers are you?
(Alex) I am more creative – less on finances and more on what kind of home we might like. I wanted a space to host friends and place for a great surround sound system on our TV and not disturb too many neighbors. I also wanted a two story home where the bedrooms were separate and not everything needs to be neat and tidy all the time. This is where we compliment each other. I am the analytical and buried in details. I focus on the financial details and what is practical.
Who was part of your decision makers?
(Alex) We are typical millennials with no money saved up for a down payment, so my parents swept in and put up the down payment. They felt like interest rates were low and prices seemed like they would only go up. It seemed like if were ever going to buy, any time in the near future now was the time. So, we had to go to the parents for the down payment, but it was going to be worth it in the long run.

Who initiated this discussion of buying together?
Alex has always wanted to own, because he's a practical guy and didn't like throwing money away on rent. At some point, the idea came up, and you were excited about it when my parents proposed buying together.
And you were ok with buying with your in-laws?
Yeah, I didn't know that it would turn out the way it did! It all worked out really well.
Were there any negotiations on how the finances would work?
I think those topics are important to have in advance, to understand what the arrangement will be. We talked about a lot of different aspects- who would go on the loan, how we would handle the tax benefits of ownership, what happens when we decide to sell or what we do if the property increases in value. We also talked about maintenance costs and remodeling costs. I am the one who brought up most of the topics because I was curious about how this should all work. (Alex) And we did put stuff in writing- my dad is a contracts law professor!
What caused you anxiety or stress when buying a home?
You don't want to hear about the freakin' nightmare that went on in my head. (Kendyl) yes I do!
The biggest stressor for me was the whole bidding war and the wait and the chase and the whole idea of hoping you put the right amount and hopefor the best. That was the most stressful part. It was not having control over what you want, that was the toughest thing for me. And, beyond that, the paper work was annoying. So much paperwork that needs signatures on demand and we had no time to read and consider and analyze anything. We ultimately had to trust that you knew what you were doing and that it would all be ok.
How did you find a way to deal with that stress?
(Alex) We got to the place where we realized that we had very few options. There were not many units that fit our needs and our budget so the stress of that was more than the other things. We just can't keep twiddling our thumbs.  Understanding the reality is that everything moves quickly and you don't have the luxury to go at your own pace.
Your buying experience wasn't simple. Your first accepted offer didn't work out.
(Alex) We got an accepted offer on a house we mostlywanted. It had the floor plan and many important features but wasn't in quite to the location we wanted. We discovered some costly fixes that needed to happen during our inspection. At the same time, a unit came on the market that was perfect in every single way. It sold for more than we could afford, but we took it as a sign that we weren't ready to settle. So, we canceled the deal we were in and resolved to find something better.
How did that experience influence your next offer?
The next unit we liked was also kinda tough. We liked the building, it had the features we wanted and the location was decent- but it was chaos when we saw it! There were a lot of people living here, it was messy and we could tell it needed work, so making an offer was a gamble.
How did you decide what to offer?
(Both) You told us what to do! (Me) I did?! I think that was Soo (their DIGGS Buyer agent).  That's right! Soo was really in touch with values and she did a lot of work to find out from the listing agent what would work. Soo was the gal who made it all happen for us!
How did you feel when you got your offer accepted?
I felt overall, good. I was ready for the process to be over. I felt like we had been in limbo for so many months, searching and being beaten in multiple offer situations. It was a relief. Now that we have the place, we can plan renovations. We can deal with that.
Now that you've been here for a while, how do you like it?
I like it! Once we got it looking the way we wanted it to, it has the vibe and the floor plan we wanted. Having friends over has been great, everything flows when we have lots of friends over
Did you discover any surprises?
Well, we discovered there is a preschool right out that window. They don't start too early but if you are working from home, there is an hourly, it seems, the release of the children. They are, um, not very quiet. I work in the other room on those days.  We knew the playground was there, we just didn't think of the consequences.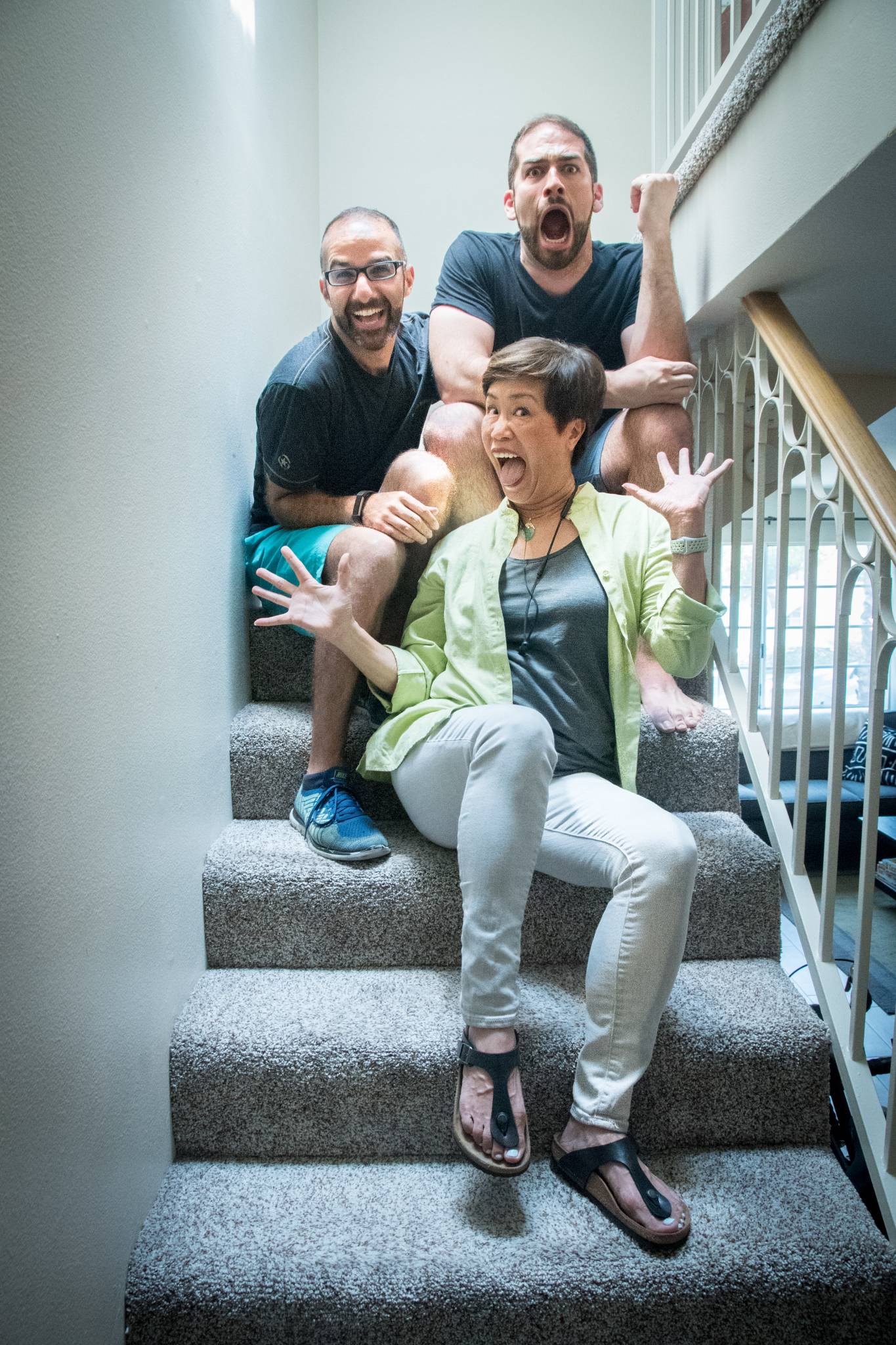 What advice do you have for people like yourselves?
(Alek) I think buying s home can be very stressful. A thing that is often overlooked is finding the right Realtor to, like, walk you through the process. We had never done this before. It can be daunting to have to go through all the steps like finding the right property, helping to make those decisions you need somebody to do this with you. The search for the units, you can do all of that on your own. It's all the steps after that is when you really need help. You need someone to give you the confidence to move through this.
More Sold Stories