CYPRESS PARK LOCATION
According to the Los Angeles Times Mapping Project, Cypress Park runs along either side of Cypress Park Blvd. between the LA River and the curve of Mt. Washington. Locals and natives, like me, however, remember when the area along Division St., all the way to Cleland Ave. was included in Cypress Park.
WHAT PEOPLE LOVE
Like most of Northeast Los Angeles, people love the central location. Everything – Downtown Los Angeles, Old Town Pasadena, Glendale and the Valley is within an easy access radius.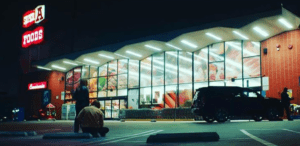 Cypress Park is the most understated of the three "Parks" surrounding Mt. Washington. It is still largely working class, gentrification has started, but has not yet taken over.
This is an area of modest homes built in the 1920's and 1930's. The most interesting building is the Huron Substation which is recently on the market! In general, however, Cypress Park is more affordable than the surrounding "parks" and Mt. Washington. Hipster businesses haven't pushed out the traditional carnicerias and there are still a ton of interesting (and slightly mysterious) light industrial businesses on San Fernando Rd.
Don't miss out on Super King, a grocery store filled with the most fabulous and add fruits and vegetables you will ever see. It's even better than Super A. On the other side of the neighborhood is the LA River Center and Gardens – developed from the old Lawry's California Center.
On a side note, natives (like me) were thrilled to see a glimpse of our local grocery store Super A in the hit movie A Star Is Born. To think that Lady Gaga and Bradley Cooper's toochis' were sitting in our parking lot!!!
SCHOOLS
Los Angeles Unified School District is one of the largest school districts in the country. Check the schools attached to your home of choice with the Resident School Finder Tool.
There are also six programs for the School of Choice. Click the link for more information and application information.
CYPRESS PARK HOMES FOR SALE
Sorry we are experiencing system issues. Please try again.
Explore Additional Popular Northeast Los Angeles Neighborhoods