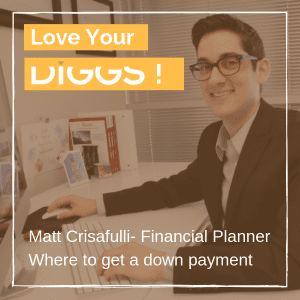 You'd love to buy, but you have no idea how to get a down payment on a house!
Would it surprise you to know that some of them saved it up, little by little?
You might feel like that is never going to happen for you, but it can. Matt Crisafulli is a talented fee-only financial planner. He has helped people just like yourself achieve their financial goals- including how to get money for a down payment on a house.
Listen in as Matt shares advice that will get you well on your way.
Beforw we get into our conversation, however…. let's do the DIGGS Marketing Moment.
DIGGS Marketing Moment
I pulled up this month's statistics for Glendale single-family sales and finally saw the trend I've been feeling for a while. Inventory is up and sales are down.
Here are the charts: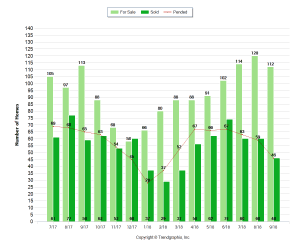 The light green line represents the number of single-family homes available for sale in any given month. The dark green is the number of homes that closed escrow and the red line is the number of homes that went under contract.
Can you see how the inventory is growing relative to the sales rate? From a season's perspective- we are about 3 – 4 months early for a "seasonal slow down"
Here is a simpler way to visualize the market: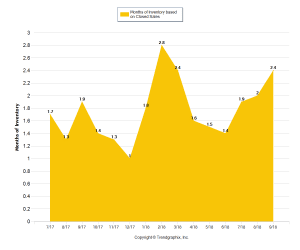 This represents the month's supply of inventory- or, if no additional homes come on the market as of today, how long will it take to sell our existing inventory? You can see the steep rise starting in June.
What does this Mean?
If you are a seller, don't panic. It is still a seller's market and there are not enough homes on the market to meet demand.
However- now is the time to be cautious about your asking price and your condition. The well-priced homes in "cream puff" condition are attracting multiple offers. Also, a few high demand neighborhoods are still commanding competitive traffic and sales. Northwest Glendale and La Crescenta are especially hot right now.
If you are a buyer- your time is getting closer. Pay close attention to homes on busier streets or homes that need work. The relative value on these homes might make these choices a smart move for you.
Caveat- interest rates will continue to rise. It might be wiser to buy a home in a competitive situation today than wait.
SHOW NOTES
How to get a down payment on a house?
Eat Your Vegetables
The stuff your parents and grandparents have always told you
Automate the Savings Process
It's a long process where you prepare to buy a home of saving excess income or sacrificing to have excess income
Automatic savings keep is out of sight, out of mind
Defer excess income (bonus, raises, gifts, etc) get that into a savings account instead of your checking account where you are tempted to spend it
Even a small amount will compound over time and turn into something big!
Make sure you save in a higher interest paying account!
Most people have their savings account at the same place as their checking account. They will get a much higher interest rate at a Capital One, Ally or Discover (online bank)
Benjamin Franklin said, "Money makes money and the money that money makes, makes more money" perfectly describes the power of compounding
Read the book, "The Compound Effect" by Darren Hardy
Matt told the story of one of his clients who managed to save 2,000 a month by making sacrifices like living in a small apartment or not getting expensive coffee or meals out. The interest they made from their savings was between $12,000 – $16,000! That is additional for doing nothing more than placing your savings in the right account.
Buying a home is not just a financial decision. It is a life decision, so consider doing things that are counter-intuitive. With that said, here are some little known things that can get money for a down payment on a house.
Withdraw from your IRA
You can "borrow" without paying the 10% early withdrawal penalty to ge money for a down payment on a house. You do this as long as you have not bought a home in the last two years. This is a per person limit, so if you are married you could each do this for $20,000.
Borrow from your 401k
If you borrow from your 401k at very favorable rates and stretch your payments over 30 years (depending on the plan). Remember- many times your employer is also contributing to the 401k, so this is an excellent benefit. Caveat: you can only take is $50,000 or half of the vested balance or half of your vested balance, which ever is less
Bank of Mom and Dad
Mom and Dad want to help their children, but you can make them feel better by including a third party company that can track the loan for you. They can track payments, tax reporting and interest calculations. This makes the whole thing a bit more arm's length and adds an extra layer of authority.
loankin.com is one such service. (I typed in "Intra Family Loan" into the googles and came up with a ton of interesting resources!)
I sold a home for a couple where the kids and parents worked out an entire co-buying plan to buy a house. You can read that story here!
Parents can forgive loans as long as it is below the IRS gifting limit. This is a great way to transfer wealth from parents to children without paying a big tax penalty. Your financial planner or tax professionals are the people to help you plan this strategy.
Matt had a client that deferred purchasing a new car and lived in a smaller apartment than they wanted. Within four years they were able to get a down payment for a house and purchase a nice condo!
We get into this head place that there is no point in saving because I will never accumulate enough to get what I want.
Here are some additional articles about down payments:
The Down Payment Delima
Five Strategies To Save a Down Payment
How to Get A Down Payment for a Home
Buy Your First Home Part 1- The Money
Matt is a Fee-Only financial planner. He is CFP (Certified Financial Planner), an IRS enrolled agent,  and a partner at ACap.
Matt Crisafulli
818-272-8511
[email protected]
Podcast: Play in new window | Download
Subscribe: Apple Podcasts | Android | Email | Google Podcasts | Stitcher | TuneIn | Spotify | RSS