This has to be one of the strangest quarters in my residential real estate career. Not only are the number of available homes way down, when they should be way up for spring…. the number of new listings coming on the market is the lowest I've ever seen. Which means that it's an amazing time to sell! If you have some place to go, would you do us a solid? Go. Really, I mean it. Get outta here and let us sell your home. We will do you proud.
My blow by blow analysis below the graphic!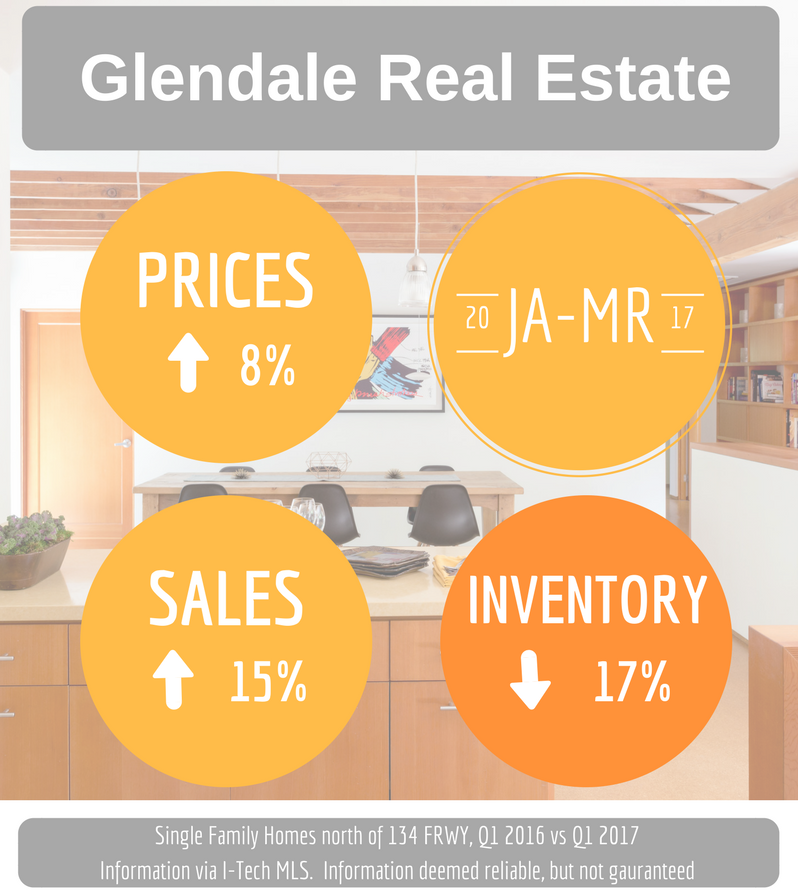 Let's start with prices. I think the favorite way to cite pricing trends is average or median sales price, but I think those stats tell the story of the homes available for sale, not the absolute value. In a small sampling, the average price per square foot seems to deliver a more accurate picture.
In Q1 2016, the average price per square foot declined in January, February, and March. On the other hand, we were also averaging just 38 sales per month that quarter.  A laughably small sample.
In Q1 2017, the average price went up each month, $487, $486, and $490 respectively. The number of sales also went up 15% more than the same quarter last year.
At the same time, the number of available single family homes went way down.  Total inventory was down by 17%, but the scary number was the number of new listings in one month- March 2016 saw 86 new listing, March 2017 saw only 71 new listings. That is a 16% drop.
Such high demand against incredibly low inventory and BOOM- prices are up.  In some cases, prices are WAY up (which can mean a fancy pay day for sellers). And this being the weird quarter that it is,  this is the first April/May in 30 years where I do not have a single active listing. Yikes! So get outta here and let me sell your home!