Spring is in the air!  Glendale inventory is rising (finally) and the Glendale Home Buyers are eager to snatch them up.  I had the craziest Glendale Home For Sale– but I will tell you all about that, later.  Let's dive into the numbers, shall we?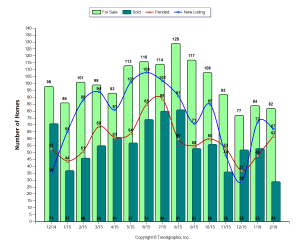 I always start with the state of our inventory.  This chart shows the status of single family homes for sale in the city of Glendale.  The light green bars show how many homes were actively offered for sale in any given month.  See how that number has been falling since June of last year?  Even more dramatic is the thin blue line.  That shows how many new listings came on the market in that month. New listings took a major dive at the end of the year but then rose almost as dramatically in January.
It isn't enough.  Home buyers have been crying in their beer for a really long time.  The red line shows new contracts for that month- the moment a new listing comes on the market buyers snatch it right up.
This means anyone thinking about selling needs to call me right now!
One last note on this chart…. the dark green bars show the homes that closed escrow that month.  Like, the sign comes down and the new  people move in. That scary drop you see in February?  Those are homes that entered escrow in December and early January.  You are going to see a healthy increase in the number of homes sold over the next two months, promise.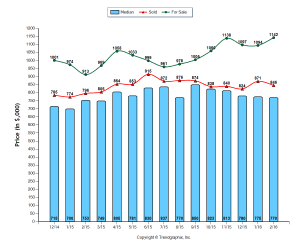 It is interesting to see just what homes ae selling.  Because, even though most homes sell, not all of them sell as well as others!  The blue bars shows the median price of sold homes.  The median price hovers in the higher $700k range.  That number has been falling over the last 6 months, but that is more about the low inventory than prices falling.  What is really interesting is the growing gap between asking prices and selling prices.  On average, the asking prices are rising and the sales prices are staying the same.  This means that just because the inventory is low, buyers are not going to buy at any price!  Our economy is better, but not fixed and the "irrational exuberance" of the last market is not present today.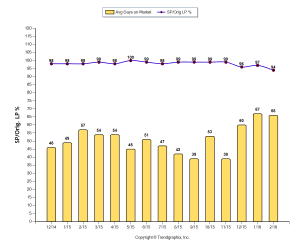 One more thing.  The time it takes to sell a home has been on the rise for three months, now.   Homes might enter contract quickly, but the contingency period is… more complicated.  The other, matching, metric, is the falling ratio of original list price to closed price. We are down to 94% – and this is showing a lot more bumps along the way in a home seller's escrow.
Bottomline- getting your home into escrow is child's play.  Closing escrow and keeping more of the initial offering price is a lot more of a challenge! This is where the quality of your agent is critical.  Selling a home looks easy.    Closing it- another matter altogether!
Curious about YOUR Glendale Home Value?
PS- so, that crazy Glendale Home For Sale?  I listed a home that, based on recently closed escrows, should have sold at $750,000. But it was awesome.  We listed for $769,000, had 6 offers in 3 days and took a truly astonishing offer.  Then 7 more offers came in- after we had reported it as under contract!  Crazy.