I'll bet you have opinions on how the Glendale Ca homes market is doing. You probably think things are slowing down. It feels like there are more For Sale signs in the neighborhood. It seems like interest rates are rising. You feel like the market is about to correct, right?
You all know I am a data-gal, but market reports can be deadly boring. I analyzed a bunch of different metrics for Jan – Jun 2017 vs the same period in 2018. Instead of droning on about the data, let's just get to the conclusions, shall we?
HOME SELLERS
Where are prices going?
Actually, EVERYONE wants to know this. Sellers hope to sell at the peak of a market and buyers are hoping for another "fire sale".
The numbers are in and it looks like prices are still going up. The average price per square foot is up 6.5% and the number of listings reducing their price is way down.
Is my house going to sell?
You are not going to like my answer.
Your home will probably sell.
I know, I know. There are no homes on the market and there are lots of eager buyers with fists full of cash.
Our absorption rate- the percentage of available inventory is being sold- is a very high 71%. However, this means that on any given month 29% of the inventory does NOT sell. Or, to put it another way, 3 out of every 10 homes will not sell this month.
What do I have to do to sell?
The three homes that didn't sell this month probably have something wrong. Wrong condition, wrong aesthetic, wrong location.
You can often cure a wrong with a smart investment of money and effort.
But, if you really want maximum convenience, you can always cure "wrong" with the right price! Most people choose a little of both.
HOME BUYERS
When are home prices going down?
The two biggest indicators of softening home prices are price reductions and home sales falling out of escrow. I do not have good news for home buyers, here.
The number of homes that came back on the market (this means their first attempt on the market didn't work) fell slightly. This means people are making fewer mistakes on pricing. It also means that buyers are working harder to close escrow on the homes they win in the offering period.
The number of price reductions is down significantly, nearly 70% lower. This is partly due to the fact that the average sales price took a huge leap up, but the average list price has risen at a more moderate pace.
Conclusion- looming interest rate hikes could change this picture, but it looks like prices will continue to rise this year.
Are more homes going to be available?
I don't think so.
The number of new listings coming on the market is down by over 6%. Fewer new listings and a similar number of buyers means the inventory is going to remain tight for the foreseeable future.
In fact, I stated, at the start of this year, that tight inventory is our new normal. Man, I really hate saying "I told you so".
Is the competition going to get better?
Oiy. No, again. In fact, some of the hyper-competitive moves long common in urban LA are starting to become common up here.
In order to buy the most popular homes on the market you must make stomach churning decisions that were unthinkable just a few years ago. Which important contingency will you remove, upfront? How many favors will you rack up with your parents to make an all-cash offer?
What do I do now?!
If you truly don't need to buy or sell you might want to sit back for a little bit. There is a lot of uncertainty in the market.
Many people feel like they have "plenty of time", even though they may need to move in a year or two. In an uncertain market, a year or two can be disastrous.
Most people buy or sell for life reasons, not purely business ones.
If, however, your life would be better in a different place to live call us now. It doesn't look like the market will change significantly any time soon. If that's the case, why wait?
BTW- the cover image is my actual spreadsheet used to create this post. Told you I am a data-geek. Perhaps you are also a geek so…..
Here's the chart!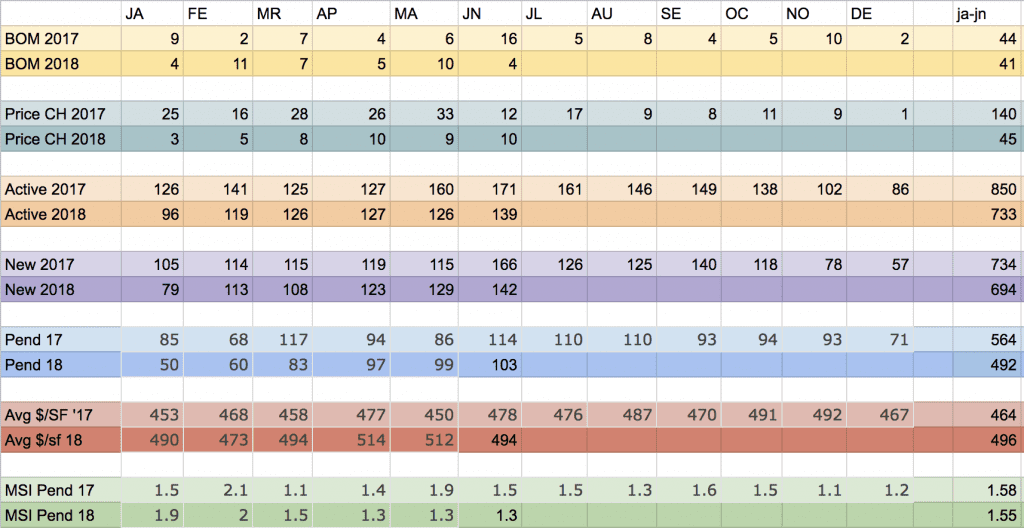 Based on information from the Association of REALTORS®/Multiple Listing as of [date the AOR/MLS data was obtained]. All data, including all measurements and calculations of area, is obtained from various sources and has not been, and will not be, verified by broker or MLS. All information should be independently reviewed and verified for accuracy. Properties may or may not be listed by the office/agent presenting the information.