Pristine Mid Century Home In Royal Canyon
1516 Princess Dr. is located in coveted Royal Canyon. Locals love Royal Canyon because it is one of the original Historic Homes districts. Some of the most beautiful and historically important homes in Glendale are right here.
Bonus Read: Neighborhood Spotlight, Royal Canyon
You gotta love how the listing agent kicks off her marketing copy, " In 1956, Edward & Martha Fieberts built their family residence on an idyllic tree-lined street near Nibley Park, a home they would cherish for decades." This isn't just a collection of stucco and wood – this home is a character in a sweeping saga!
Here is a photo of Edward and Martha: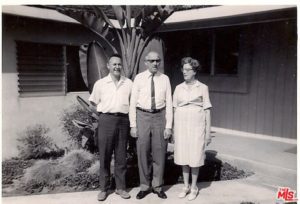 I am in lust with the stacked stone and brick fireplaces, and the principle bedroom suite. The bedroom has a fireplace with floating mantle and a wildly cool wall of natural wood closets. The bath has a "wet room" with a sunken tub! (I know- you've only ever seen bad 1970's knock offs of a sunken tub. You've got to experience this one)
But the thing that gets me (and I acknowledge I am rather odd) is the laundry room. This is a laundry/crafts/projects/messy space/creativity for days space that just floats my boat.
This Mid Century Home Ain't Gonna Last
I personally think this home is a STEAL and won't last 2 seconds. If you are an unrepresented buyer give me a call. I wanna sell this home to a worthy buyer so bad i can TASTE it!!
Ready To Call Kendyl? Click to call or text: (818) 485-4535
Photos of 1516 Princess Dr.
See The Details: 1516 Princess Dr., Royal Canyon Glendale CA
The DEETS, Mid Century Home in Glendale
1516 Princess Dr., Royal Canyon. Glendale 91207
3 Bedrooms, 2 Bathrooms
2675 SF of living space
6,833 SF Lot size (way more room in the back than you would expect)
Listed at $1,275,000
Ready to see this home? On the off chance you don't have an agent you trust with a decision this big…
Bonus Read: DIGGS Mid Century Modern Collection
Listing courtesy of Abigail Dotson, Figure 8 Realty